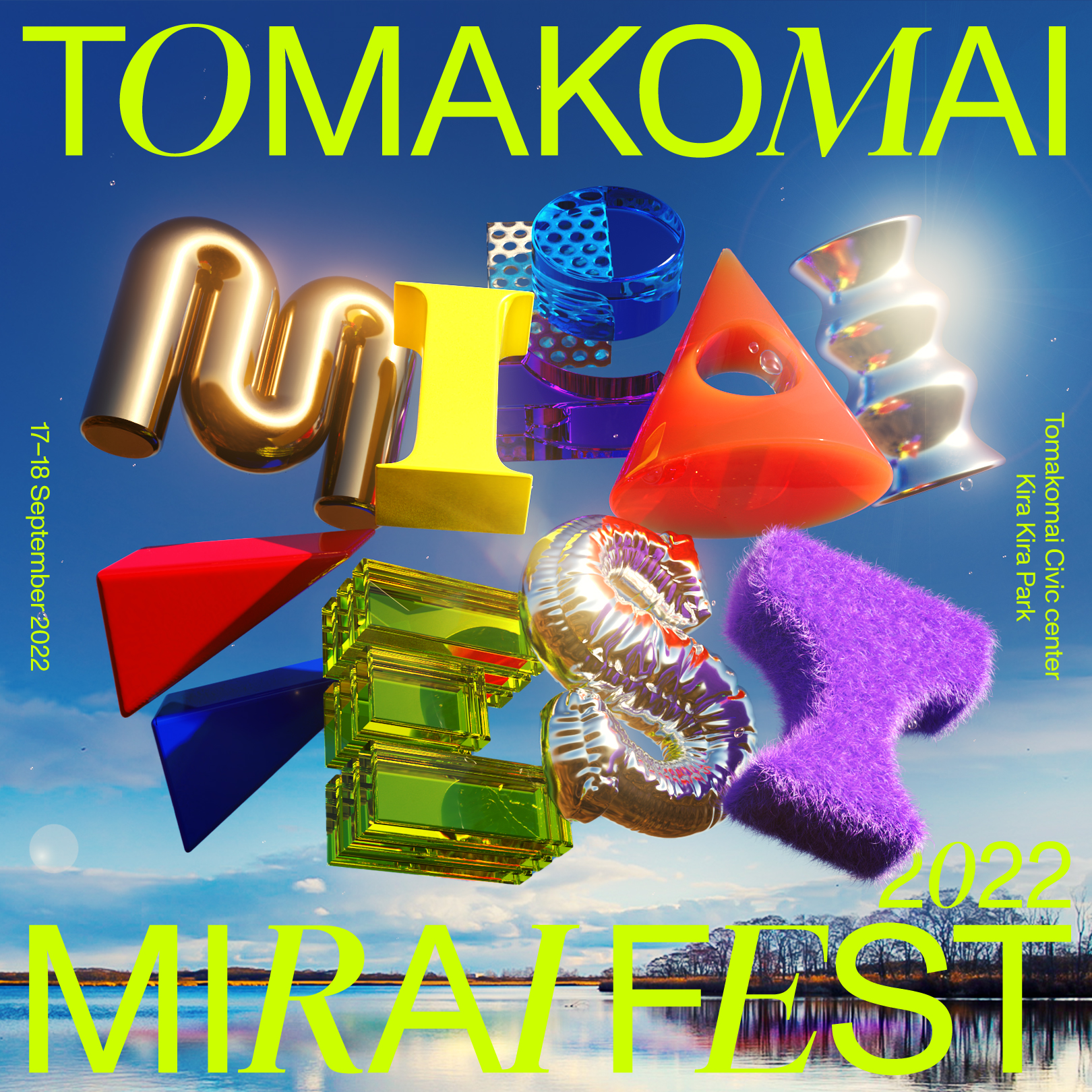 On September 17 and September 18, 2022, the Tomakomai Urban Renewal Project Committee held Tomakomai Mirai Fest 2022, inviting guests to revitalize the Tomakomai area in Hokkaido. ASOBISYSTEM participated in the planning and production of the event.
Taking advantage of Tomakomai's incredible location surrounded by nature, the TOMAKOMAI MIRAI FEST was held simultaneously at three locations: Kirakira Park, Nishiki-cho and O-machi, and the Tomakomai Civic Hall. In addition to music, the event featured art, food, technology, and more content enjoyed by kids, families, and people of all ages and genders.
■Kirakira Park (Free Admission)
At the seaside Kirakira Park, guests could enjoy unique AR content allowing them to snap photos of the futuristic TOMAKOMAI MIRAI FEST logo by using a smartphone. HADO, which uses virtual reality to bring sports to a new generation, introduced virtual ice hockey, something very popular in Tomakomai. A food truck area provided visitors with different types of gourmet offerings and a stage showcased local dancers and musicians from Tomakomai.
At night, in addition to impressive illuminations and a live stage showcasing Hokkaido's best talent, an island bar amplified the mood and guests enjoyed capturing plenty of photos and videos of the action.
■Nishiki-machi / O-machi (Free admission)
In collaboration with CCS Hokkaido–an abbreviation for curry, craft beer, and saunas–a selection of food offerings found in Nishiki-machi and O-machi were made available via food trucks in the Fukushi Shoten parking lot. The event was absolutely packed with offerings, and an original menu featuring Tomakomai Craft Spices was also on offer in cooperation with local student groups.
■Tomakomai Civic Hall
At the Tomakomai Civic Hall, used as the main venue, a futuristic stage was erected in the parking lot. Food booths offered yakitori and drink options while DJ performances hyped up the crowd. At night, the area was completely illuminated, with live concerts held over two days with a full roster of incredible artists. The opening acts on both days were local artists.
A stamp rally was also held during the event, and guests finding stamps at each location were able to snag some fantastic prizes. Many visitors enjoyed the bus tour, and QR codes around the venue provided messages from the performing artists.
ASOBISYSTEM was in charge of planning, producing, and promoting the entire event.
ASOBISYSTEM oversaw planning, producing, and promoting for this entire event.
<Event Outline>
TOMAKOMAI MIRAI FEST 2022
Dates: September 17 – September 18, 2022
Venue: Tomakomai Civic Hall, Large Hall/ Parking Lot / Kirakira Park / Around Omachi, Nishikimachi
Activities: Live concerts and DJ appearances / Technology installations / Dining area / Seating area, etc.
Sponsor: Tomakomai Urban Renewal Project Committee
Support: HTB Hokkaido TV / AIR-G' FM Hokkaido / FM NORTH WAVE
Planning / Production: Cosmo Graphic Co.,Ltd. / ASOBISYSTEM / Surround
Production Support: Mount Alive / PIF
<~Bringing More ASOBI to Your Community. ~
ASOBISYSTEM's Vision for Local Development>
ASOBISYSTEM focuses on the people and culture associated with Harajuku, creating content and sharing it both domestically and with fans around the world. Our company aims to share the wonder and appeal of local areas around Japan through different forms of media.
Through our creations, we hope to improve local tourism and breathe life into small areas around the country. This initiative includes tourism PR, entertainment planning, website creation, safe and secure event management and planning, local concerts, tour planning, local signage and logo design, and social media operations and promotion. We can also offer guidance to help utilize government and municipal subsidies in the most impactful way.
Please feel free to send us a message.
Contact Us
CONTACT
We team up with domestic and international creators as well as partner companies to produce and create imaginative works from wide range of genres. Please contact us for work requests or consultations.