Yutaro to Appear in Original Drama During the Recitation Play 'Shitaitoka, Shitakunaitoka no Hanashi Janai'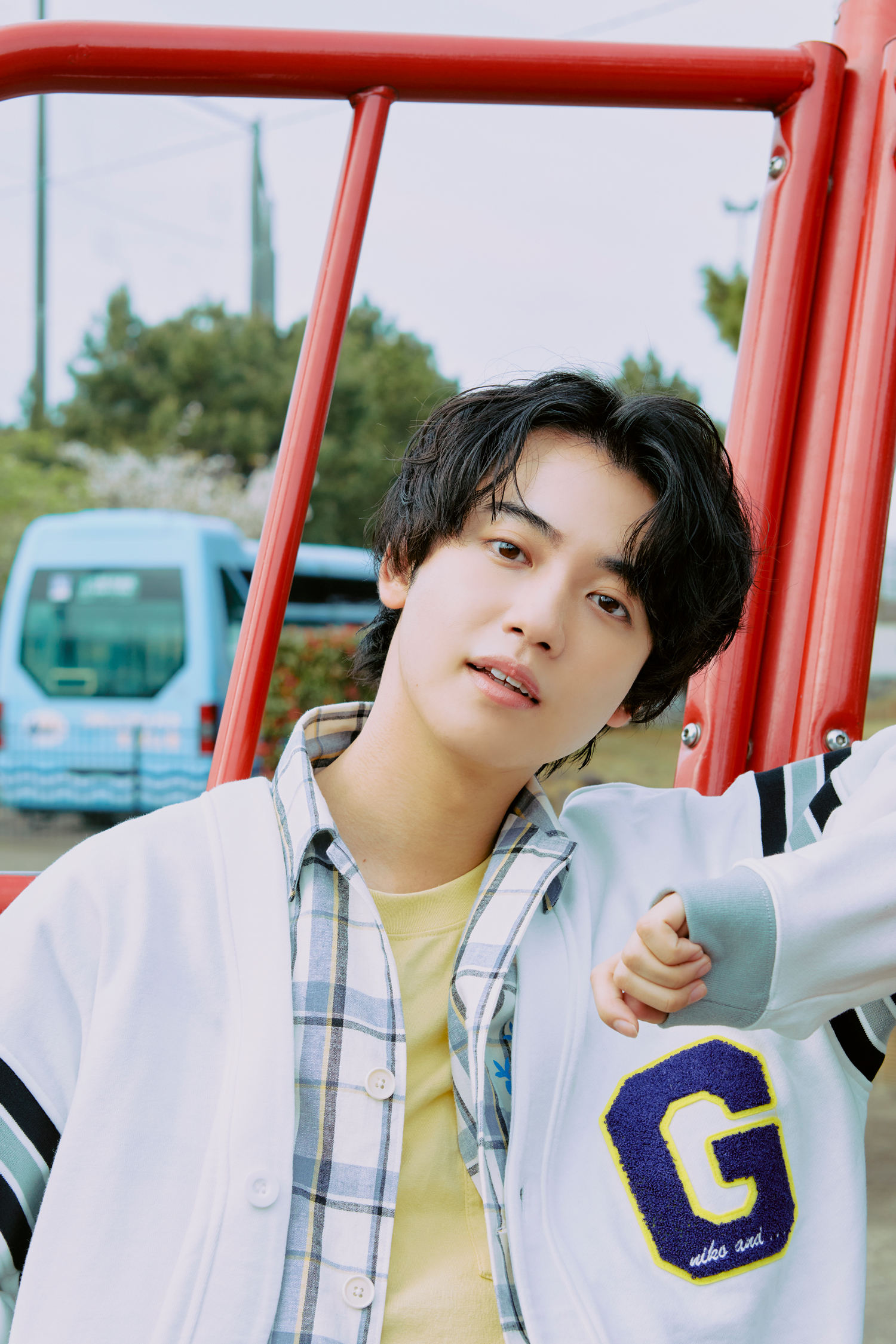 The recitation play Shitaitoka, Shitakunaitoka no Hanashi Janai (It's Not About Whether or Not I Want To) will be performed at the Haiyuza Theater in Tokyo starting on April 20. Yutaro will appear in the drama that will be shown as part of the production.
The recitation tells the story of a sexless couple and raises pertinent questions about the state of married couples and child-rearing today. AOI Pro., which has produced many theatrical films and TV dramas including the film Shoplifters and the drama series silent, planned and produced this performance.
For the stage production, the recitation will be staged with full-scale video footage from the play. It tells the story of Takashi, an unsuccessful screenwriter and husband, who was dumped by his lover. After his wife, Kyoko wins an award for excellence in a screenwriting contest she entered without her husband's knowledge, she tries to break free from her conventional life of housework and childcare into a new world. The original drama shown during the performance will detail Takashi and Kyoko's life when they were young and their first meeting before later becoming husband and wife.
The drama was produced exclusively for the performance by Izuru Kumasaka, the director of Pretenders and other popular films. Yutaro will play the role of Takashi.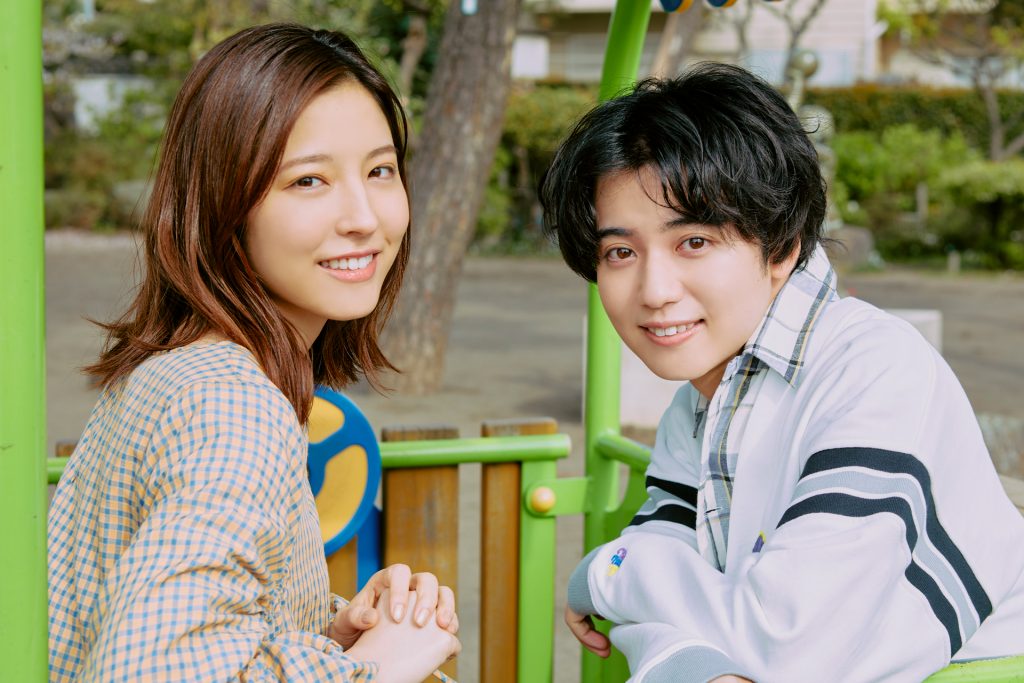 <Comment from Yutaro>
"This story is both sweet and bittersweet. It tells the tale of two young people who, I think, should be adults by now, but they can't seem to grow up.
I had never met Seira Hayakawa before this, but I've gotten to know her so well through this role. I hope you'll enjoy the realistic struggles of two people through this reading!"
<Comment from Director Izuru Kumasaka>
"There's a specific shot used in the play that Yutaro filmed with his smartphone. He managed to get a lot of great expressions out of Ms. Hayakawa, saying things like "the camera's rolling," and "the mic was in the shot, so is it okay if I resize the footage a bit?" It was a really novel experience. The last shot of the last day of filming was also done by him. The two of them really gave it their all until the end. There's a scene where Hayakawa has to confess that she's carrying her husband's child, and it was so incredibly convincing despite how young she is. I was shaken. Please come to the theater to see their performance."
<Comment from Producer Yusuke Kurozawa>
"Since we're a video production company, we had to look at this theatrical performance in a unique way. We incorporated a lot of visual effects even though it's largely a recitation. On stage, you see a fast-paced conversation between a couple on the verge of separation, but on the screen, you see them when they first met–when they were in love. You see how happy they were, and you wonder how their relationship became so incredibly warped. I was thrilled to work with Izuru Kumasaka on location in Chigasaki, since I'm a huge fan of Southern All Stars and Chigasaki Story – My Little Hometown, which he directed. I hope you'll come to the theater to experience this blend of recitation and drama!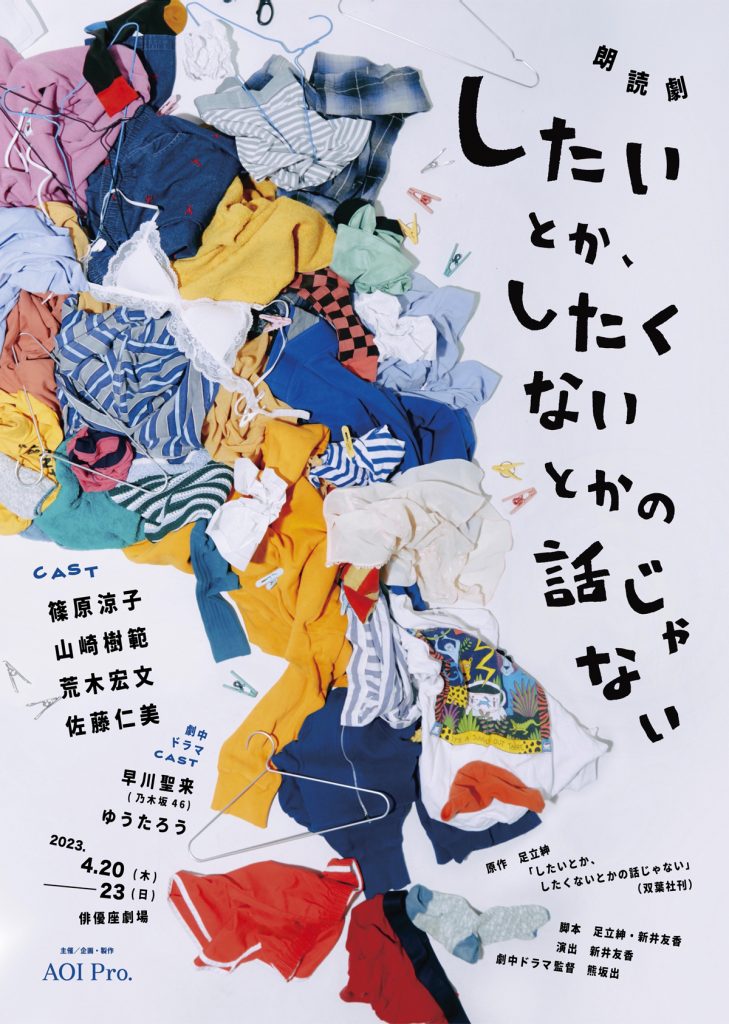 Shitaitoka, Shitakunaitoka no Hanashi Janai (It's Not About Whether or Not I Want To)
Venue: Haiyuza Theater (Tokyo)
Original Work/Screenwriter: Shin Adachi (Shitakunaitoka no Hanashi Janai) (Futabasha Publishing)
Performance Date/Time/Cast:
4/20, 19:00 / Ryoko Shinohara x Hirofumi Araki
4/21, 19:00 / Ryoko Shinohara x Hirofumi Araki
4/22, 15:00 / Hitomi Sato x Shigenori Yamazaki
4/22, 19:00 / Hitomi Sato x Shigenori Yamazaki
4/23, 15:00 / Ryoko Shinohara x Shigenori Yamazaki
Drama Cast during the play:
Seira Hayakawa (Nogizaka46), Yutaro
<Tickets>
Admission: ¥8,500 (Tax Included, all seats reserved)
General Sales: April 8, 10:00~
・Ticket pia
・Lawson Ticket (L-Code: 32329)
・e+
<Summary>
It's spring 2020, and the pandemic is the talk of the town. Once a successful film director, Takashi has since had bomb after bomb. His wife Kyoko finally gives him the boot after entering and winning a screenwriting contest without his knowledge, eager to break free from housework and childcare for a new life. One night, while Kyoko is busy revising a script that has been chosen to be dramatized, she receives a LINE message from Takashi, who has gone to pick up their child from preschool. "I wanna do it tonight. It's been a while…" Though the message is brief, it starts something in their marriage, which is filled with compromises and self-restraint. A husband who wants to do it and a wife who doesn't–is sex essential for a couple to have a good relationship? As they mercilessly confront each other, they realize their true feelings for the first time…This is a story of a clumsy couple who rethink their lives and the state of their marriage in the wake of their sexless relationship.
Official Site: https://aoistage.com/shitaitoka/
©AOI Pro.