Natsume Mito to Appear in Upcoming Film 'Kono Chiisana Te'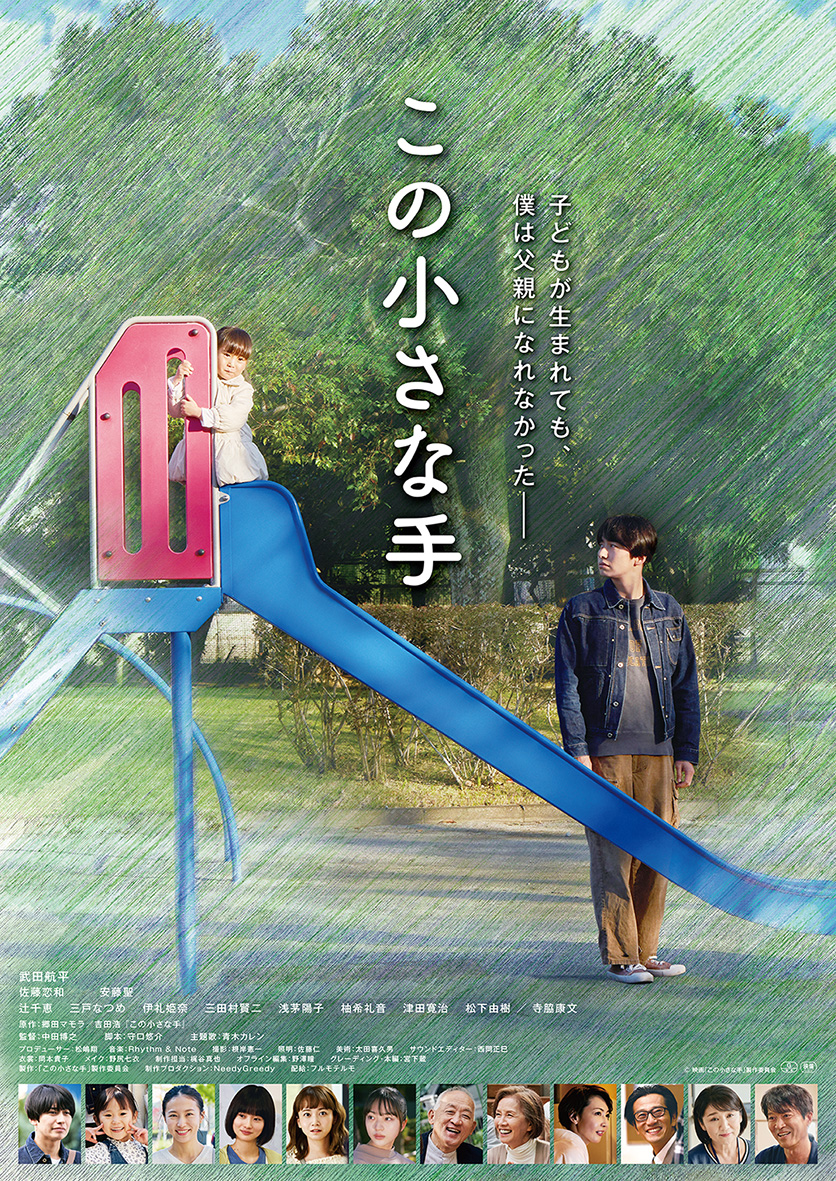 Natsume Mito will star in the upcoming film Kono Chiisana Te (These Small Hands). The film will debut in theaters on April 8.
The movie is an adaptation of the manga series by Mamora Goda, also known for his works Kira Kira Hikaru and Mori no Asagao. The story follows a father who never cared for his daughter and a daughter who has forgotten her father.
This is the feature-length debut of director Hiroyuki Nakada, who previously worked as an assistant director on films such as Love is Light and Tsukuritai Onna to Tabetai Onna.
<Comment from Director Hiroyuki Nakada>
"What is a father?
This question came to me as I was watching my newborn son sleep.
Does supporting a family financially make a good father?
Can a man be a father in some other way? Can he do something else?
While I was pondering this, I came across Kono Chiisana Te.
I really wanted to find the answer to my question, so I decided to work on plans for this live-action film.
I hope that everyone who sees this film will take some time to think about their families in this fast-paced world."
Kono Chiisana Te (These Small Hands)
Release Date: In theaters nationwide April 8, 2023at Euro Space and other locations
Original Story: Kono Chiisana Te by Mamora Goda / Hiroshi Yoshida
Director: Hiroyuki Nakada
Script: Yusuke Moriguchi
Theme Song: Karen Aoki
Producer: Sho Matsushima
Music: Rhythm & Note
Production: Kono Chiisana Te Production Committee
Distributor: Fulmotelmo Inc.
2022/Japanese/Color/Vista Size/90 minutes
(C)映画「この小さな手」製作委員会
<Starring>
Kouhei Takeda
Renwa Satou, Sei Ando
Chie Tsuji, Natsume Mito, Himena Irei, Kenji Mitamura, Yoko Asaji, Reon Yuzuki, Kanji Tsuda, Yuki Matsushita, Yasufumi Terawaki
<Story>
Kazuma, an illustrator, lives with his wife Sayuri and their three-year-old daughter Hina.
One night, while Kazuma is drinking with his work buddies, Sayuri gets into an accident and is hospitalized while out shopping.
Kazuma falls asleep at the bar and Hina wakes up alone the next day. She is rescued by the police and placed in an orphanage.
Given his actions, Kazuma can't take Hina home. Having done nothing to help raise her, he's decidedly unfit to parent.
Sayuri doesn't wake up, and time continues to pass.
Desperate, Kazuma gradually realizes that there are people who care for him and want the best for his life. Determined, he sets out to repair his bond with his daughter.
When Kazuma visits, however, all Hina can do is cry. Has she forgotten her father's face?
Official Site
https://holdyourhand-movie.com