Sebastian Masuda to Unveil Hands-On Live Performance Work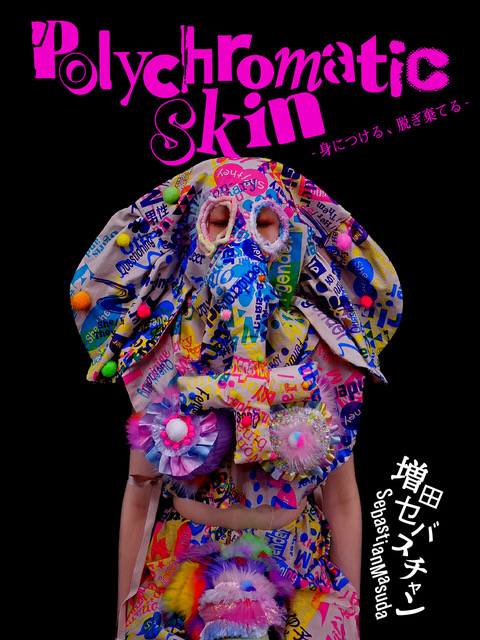 From September 30 until October 2, 2022, artist Sebastian Masuda will present a hands-on live performance work titled Polychromatic Skin – Minitsukeru, nugisuteru at kagoo in Kitakagaya, Osaka.
Masuda, who currently resides in New York, is returning to Japan temporarily to prevent this colorful and experimental participatory live performance, inspired by the street style of the 90s. The title of the artwork is pulled from the artist's intention to break through and liberate people's unconscious stereotypes that stand in the way of gender freedom. This work is the second in a series following Polychromatic Skin -Gender Tower- and Polychromatic Skin -Gender Wall- to be exhibited at Roppongi Art Night 2022.
Polychromatic Skin -Gender Wall- at Roppongi Art Night 2022
The theme of this art piece is 'wearing something by taking it off.' Audience members will participate in the live performance by wearing masks, tops, and bottoms based on the idea of androgyny, or the body of a human before it is divided into male or female.
Upon entering the art space, guests will be surrounded by live music consisting of drums and violins and visuals, while being invited to act accordingly to create their own art. Each session lasts 60 minutes, and participation in the live performance must be reserved in advance. Tickets to view the works without participating in the performance will be sold at the venue on the day of the event.
The performance will take place at kagoo, a former warehouse space in Kitakagaya, an artistic area of Osaka. A free area at the entrance will feature a pop-up store filled with Sebastian Masuda's art, along with items from 6%DOKIDOKI, a popular Harajuku apparel brand celebrating its 27th anniversary in 2022.
<Comment from Sebastian Masuda>
"In Brooklyn, New York in 2018, I wandered off to go to the restroom at a club. The male and female signs on the restroom doors had been smashed together, and the sign only said 'non-gender.' Bewildered by the unexpected instructions, I opened the door with the usual color and found a completely different sight than I was expecting. Shocked to realize that there were stereotypes hiding unconsciously within me, I returned to the club floor to find the space is as fun as ever. Since then, I've wondered if there is a way to break the stereotypes I have. I can't stop thinking about it.
Is breaking down the walls the only shortcut?
The right answer is inside all of us.
Sometimes, to see the truth, you just need to put something on.
Cast off the self by taking it off."
Polychromatic Skin -Take Off by Wearing-
Running: September 30 – October 2, 2022
Venue: kagoo (5-4-19 Kitakagaya, Suminoe-ku, Osaka)
Official Site:
https://sebastianmasuda.com/works/skin-osaka/