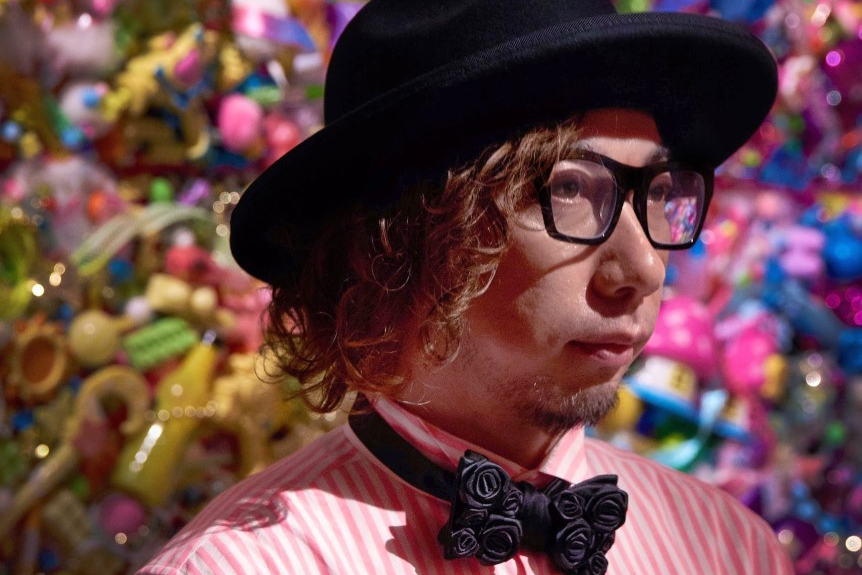 Artist
Japan Cultural Envoy 2017 / Visiting Scholar at NYU 2017-2018 / Newsweek Japan "100 Japanese people respected by the world"2019
Born 1970. Began working in the 90's in the worlds of theater and contemporary art. Since making Harajuku his base of activities in 1995, he has consistently created works that utilize a unique sense of color and cross over into the worlds of art, fashion and entertainment. Known as the leading figure of Japanese KAWAII culture, in 2011 was art director for Kyary Pamyu Pamyu's music video PONPONPON, in 2015 produced the KAWAII MONSTER CAFÉ, both of which also helped introduce the world to KAWAII culture.
In 2014 held his first solo exhibition in New York titled Colorful Rebellion –Seventh Nightmare–. In 2017 as the Japan Cultural Envoy, 2016 traveled to Holland, South Africa, Bolivia, Brazil and throughout America, holding lectures, workshops, and created various artworks. He 2017 has created the participatory art project TIME AFTER TIME CAPSULE in 2014, unfolding at several locations throughout the world. Having experienced the fragmentation of the world during the pandemic, Masuda became deeply interested in the nature of community, and began to advocate for the Digital Tribe and examine it through his own Kawaii community.
He continues to create works utilizing all the phenomena of the world as materials.
WORKS
CONTACT
Exhibition, Project 2014
"Colorful Rebellion -Seventh Nightmare-Seventh Nightmare-"[Kianga Ellis Projects, NYC/ Young At Art Museum, Florida / Milano Salone / Troopen Museum, Amsterdam / MAS Museum,Antwerp / Kagoo ,Osaka Japan / Kanda Mojin Shrine ,Tokyo Japan]
2014/2015/2016/2017/2018/2019
"Time After Time Capsule"
[NYC/Young At Art Museum, Florida/Japan American National Museum, LA/San Francisco/Anchorage Museum, Alaska/EMP
Museum,Seattle/Japan Expo, Paris/Camden Market, London/Bolivia/South Africa/Angora/Japan House, São Paulo/Toronto]
2016
"TRUE COLORS"[Ronin Gallery,NYC / T-ART HALL,Tokyo]
2017
"THE DORAEMON" [Mori Arts Gallery,Tokyo]
"Escape from Anonymous[e] -Improv Orchestra for the world-"[NDSM, Amsterdam] "Reborn-Art Festival 2017"[Ishinomaki, Miyagi]
2017/2018
"Point-Rhythm World -Monet's microcosmos-"[Pola Museum Annex, Tokyo] 2019
"FUR EAST FAR TOKYO"[Special Special,NYC] "FOREVER COLORS"[ROPPONGI HILLS A/D GALLERY]
2019-2020
"Gaping Hole Secret"[IReborn-Art Festival 2019 / KURKKU FIELDS, Chiba]
2021
"Fantastic Voyage"[BUoY, Tokyo]
"Digital Tribe -Discovering The Digital Tribe via Kawaii-"[Obra,Kyoto] "Yes, Kawaii Is Art"[Kagoo ,Osaka Japan / Kanda Mojin Shrine ,Tokyo Japan] "Primal Pop"[ROPPONGI HILLS A/D GALLERY]