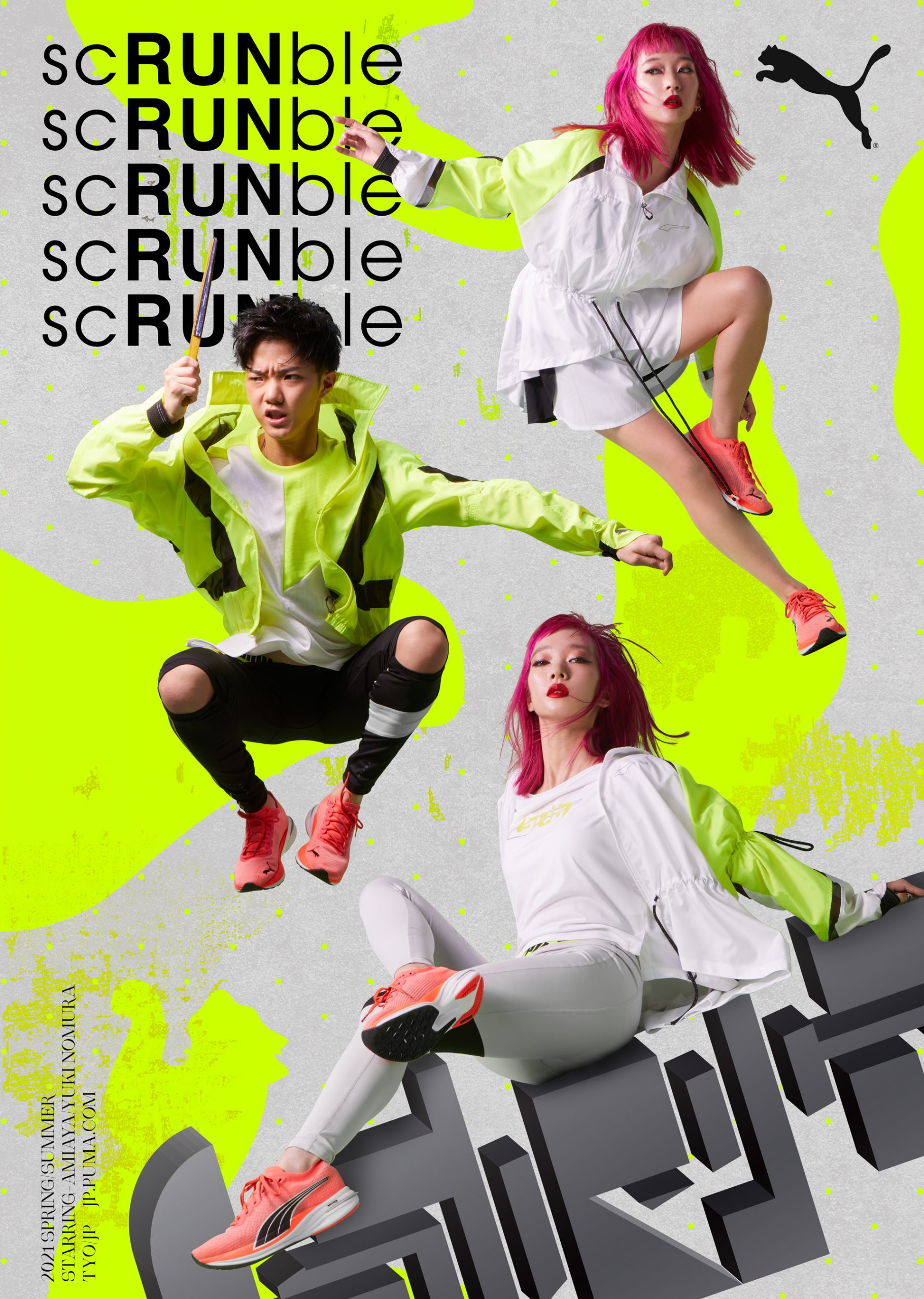 Global sneaker company PUMA has developed a collaboration collection with Japanese creators, aiming to strengthen its business in the country. DEVIATE NITRO, a running shoe with thick soles perfect for both men and women, were released in 2021.
Led by Creative Director 2BOY (yenter), ASOBISYSTEM provided content planning, product design supervision, and creative assistance, while also spearheading PR.
The name scRUNble comes from a blend of 'scramble' and 'run.' The running-wear collection was inspired by today's rapidly advancing digitalization, where the boundary between real and virtual is slowly eroding. By moving back and forth between the analog and digital worlds, something three-dimensional is created.
For the first collection, 2021SS, 2BOY (yenter) and Motoko Marui (NII) supervised the product designs. PUMA's globally recognized technology and originality expertly blend together to create incredible men's and women's apparel. 
To promote the collection, the pink twins unit AMIAYA appeared in eye-catching key visuals and a CG-filled video. AMIAYA has attracted attention worldwide as fashion icons representing Tokyo. Traditional Kyogen performer Yuki Nomura also appears in the campaign, highlighting Japan's proud culture to audiences abroad. 
The collection was expanded into two new seasons, 2021SS and 2021AW.
<About yenter>
Yenter is a small, elite creative team of art directors, graphic designers, VJs, filmmakers, and illustrators.
We provide a number of services from planning to production across a wide range of fields, including advertising, CD and DVD jackets, merchandise, apparel, catalogs, product packaging, logos, websites, and interiors. The team is also active with video production, including music video direction and editing.
Click here for job requests and inquiries.
WEBSITE
https://yenter.jp/
CONTACT
We team up with domestic and international creators as well as partner companies to produce and create imaginative works from wide range of genres. Please contact us for work requests or consultations.