Matt Cab, MATZ, Grace Aimi, and Ace Hashimoto Release New Single 'AGAIN'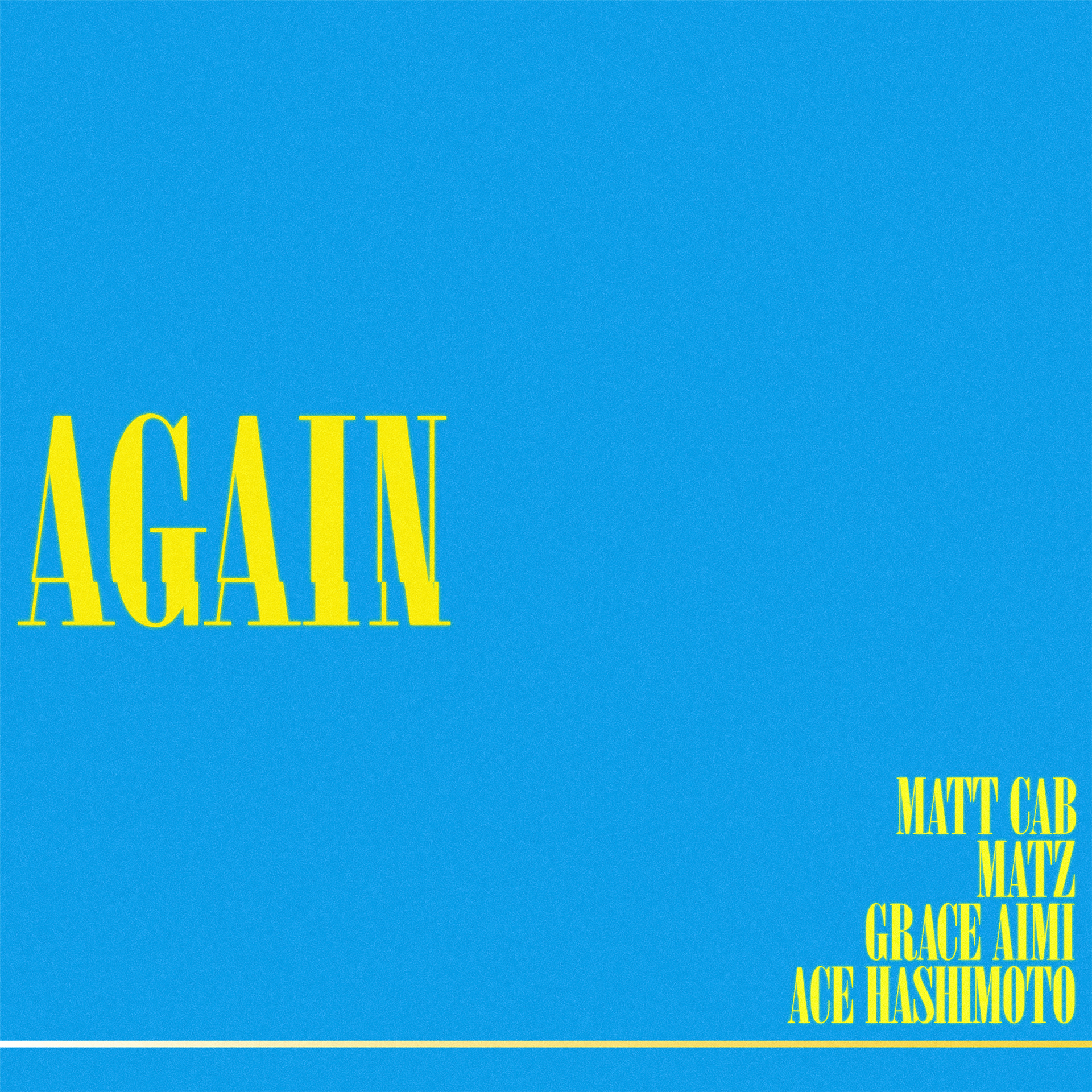 Grace Aimi has teamed up with music producer Matt Cab, MATZ, and Ace Hashimoto on the new single AGAIN.
The song blends hip-hop and R&B vibes with House beats, creating a feel-good rhythmic sound with a light and easy beat. Grace Aimi's warm, nostalgic voice and Ace Hashimoto's smooth raps are included in the mix, resulting in a song that can easily grip people's hearts.
AGAIN (Digital Single) – Matt Cab, MATZ, Grace Aimi, Ace Hashimoto
Release Date: May 26, 2023
Streaming URL: https://lnk.to/MMGA_AGAIN
Lyrics: Grace Aimi, Matt Cab, Ace Hashimoto
Composition: Grace Aimi, Matt Cab, MATZ, Ace Hashimoto
Arrangement: Matt Cab, MATZ
<Profile>
■Matt Cab
Matt Cab is a music producer and artist from San Francisco who is active in Japan. With a unique musical sense and a unique groovy sound, Cab has been active in the pop and street scenes as well as in the worlds of hip-hop and R&B, blending the boundaries between scenes and genres. In recent years, he has worked on songs for BTS, Namie Amuro, AI, JP THE WAVY, Awich, and many other popular artists. BE:FIRST's single Kick Start shot to the top of various charts, winning 17 awards. Cab also worked on the English translation of RADWIMPS' Weathering With You Complete Version. He was the only Japanese artist selected as one of the 50 Creators of the World at the YouTube Music Awards in New York where he also performed. In addition, Alicia Keys chose Cab's entry to the Time Machine Remix Contest as the Grand Prize winner and invited him to attend the Grammy Awards. In his new project PLAY SOUND, he samples sounds from the streets along with anime sound effects to create new beats, posting them on TikTok and other social networking sites and amassing huge popularity. Cab has collaborated with companies and organizations such as NIKE, JAL, Fuji Safari, and the Japan Karate Federation and his Youtube channel has over 200,000 followers. His collaboration single with MIYACHI, Famima Rap, reached the top spot on Spotify's viral chart, and his one-of-a-kind music continues to attract attention.
■MATZ
A musical artist from Sapporo, Hokkaido, MATZ has always been influenced by dance music, starting to create music during his teen years. His original tracks, released on SoundCloud, attracted attention from DJs all over Japan, and he performed as a supporting act at the Ultra Music Festival in Miami in 2016. After performing at Ultra Japan for two consecutive years, he released his debut EP, Composite, in 2017. The song I See You feat. Ruby Prophet reached #2 on the iTunes Dance Singles chart. Following the success of his debut album, he became the first Japanese artist to release remixes on the overseas labels Enhanced Music (U.K.) and Media Records (Italy). MATZ released his first album TIME in March 2020, continuing on to produce songs for BE: FIRST, NIJISANJI EN, SKY-HI, Kizuna Ai, NovelCore, KEMIO, Tokyo Gegegay, Yuito Takeuchi, and others. He has also produced remixes for Akiko Wada and Kumi Koda. The artist has worked on official compilations for Tokyo Girls Collection and has also produced music for a wide range of different commercials. In 2022, he made his world debut with the release of his 1st single STAY feat. SURAN from Universal Music! He is continuously attracting attention as a next-gen artist in the dance music scene.
■Ace Hashimoto
A talented Chicago-born singer, rapper, songwriter, and producer, Brandun DeShay was an early member of Odd Future, a hip-hop collective led by Tyler, the Creator (2008-10), along with Frank Ocean and other popular musicians. He has made a name for himself through music production, songwriting, and guest performances, and due to his love and respect for Japanese culture, he moved to Tokyo for a period in 2017. He is also active in providing music for EXILE and ELLY/ CrazyBoy (Sandaime J SOUL BROTHERS from EXILE TRIBE). Under the name Ace Hashimoto, he has collaborated with KOJOE, 5lack, RAU DEF, and others, and has deepened his grasp on the Japanese hip-hop scene. From 2NITE (featuring Taichi Mukai) to Great Indoors (featuring Devin Morrison & Sir Michael Rocks), he has released a slew of hits, steadily increasing his skill and experimenting with new genres and styles. His pop, mellow, and alternative R&B sound, which many say falls somewhere between Pharrell and Frank Ocean, has garnered a lot of global attention.