City Pop TOKYO Collaborates with Idol Group FRUITS ZIPPER to Produce Member-Inspired Legendary NFTs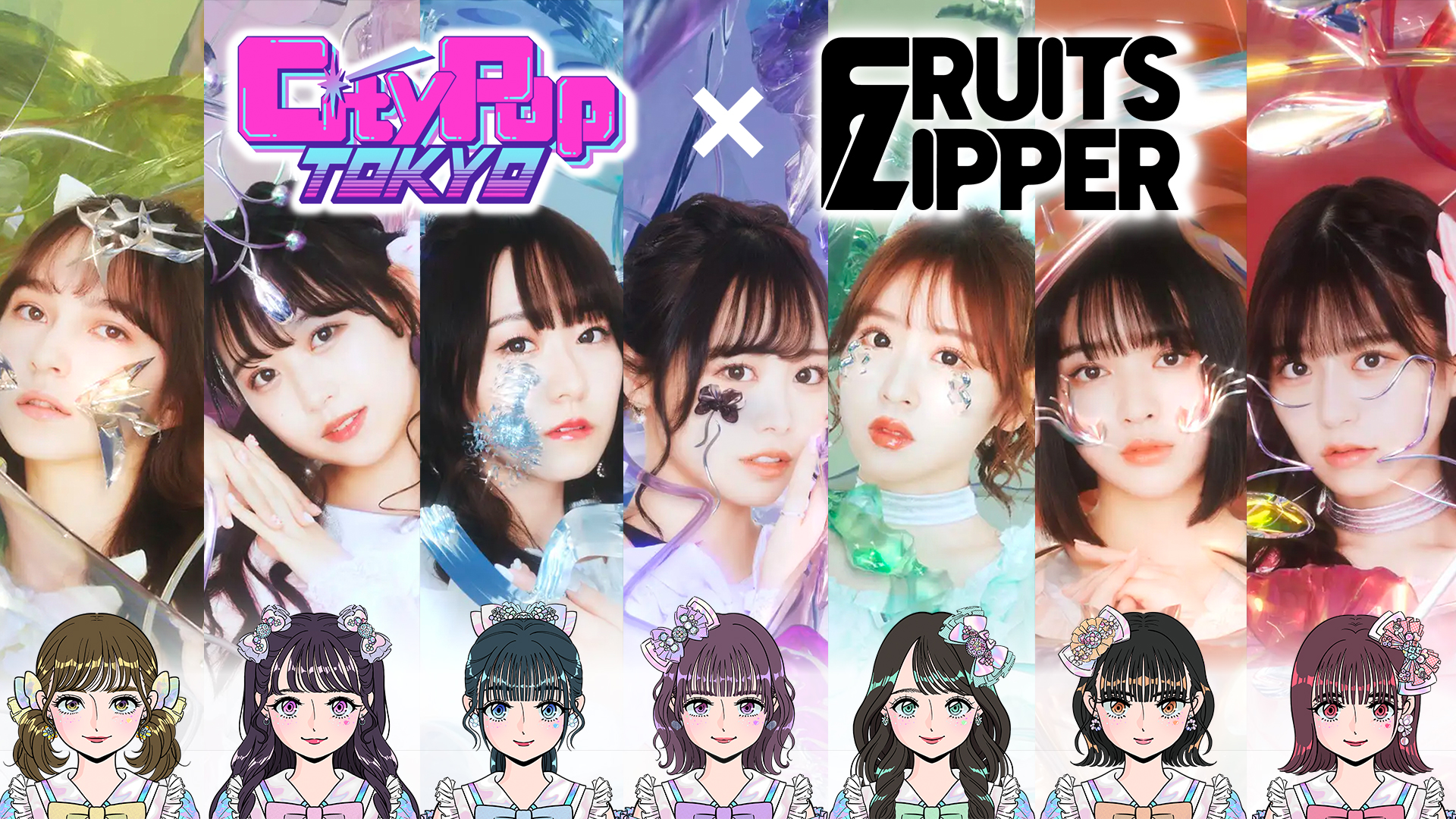 The NFT project City Pop TOKYO is inspired, fittingly, by City Pop, a music genre from Japan that is immensely popular worldwide, particularly among Gen Z. Now, the project is collaborating with the incredibly popular idol group FRUITS ZIPPER!
Starting at the end of April, Legendary NFTs inspired by the members of FRUITS ZIPPER will be released sequentially as part of the City Pop TOKYO NFT collection. These collaborative NFTs feature rare designs that are unique among the other characters in the City Pop TOKYO NFT collection and were drawn by Natsumi Sato, the illustrator who oversaw character design for the collection.
This collaboration will commemorate the release of City Pop TOKYO's main collection, which will be available starting at the end of April. City Pop TOKYO will allow both NFT holders and non-holders to participate in new character development through a series of Twitter posts after the main NFT collection is sold. Characters will level up by earning training points when they post on Twitter, which will also be reflected in their NFT properties. The final ranking will be based on level, and a subsequent audition will be held, with winners being invited to join ASOBISYSTEM as new talents.
For this collaboration, the wildly popular FRUITS ZIPPER is sure to bring some new excitement to this incredible project.
<Collaboration Details>
●Seven FRUITS ZIPPER NFTs inspired by the group's members will be added to the City Pop TOKYO collection as Legendary NFTs.
● Legendary NFTs were created by Natsumi Sato, the illustrator behind City Pop Tokyo. Each special edition release has its own unique parts.
● Unlike standard collections, Legendary NFTs will be sold via auction.
Available: April 19 at 21:00 ~ April 20 at 21:00
Amount Available: 7
Price: To be determined at auction
Below are the NFT designs. Illustrations will be sent to auction winners as NFTs.
<Special Benefits for Legendary NFT Holders>
● One NFT airdrop from City Pop TOKYO's main NFT collection
● Easier to accumulate XP points when developing characters on Twitter
● A 3D model from the Gemie Metaverse (Design to be selected from airdrops from the main collection)
●NFT airdrops of future collections (details to be announced as soon as the collections are available)
*Legendary NFTs cannot participate in the promotional game or audition.
*The images and designs of the characters may be used by the FRUITS ZIPPER and its members during their activities.
About City Pop TOKYO
City Pop TOKYO plans to release 1984 original NFTs based on City Pop, a music genre from Japan that is immensely popular worldwide, particularly among Gen Z. The project's characters are featured in trendy outfits and makeup representing symbolic fashion styles in Japan, such as GAL, SHOWA, and REIWA. After the NFTs are sold out, they can be registered as talents with ASOBISYSTEM and entered into the METAVERSE'S GOT TALENT NFT talent audition using Twitter! Successful entries will be invited to have full-fledged virtual careers, appearing in ads and releasing music. Community members can participate in surveys and vote on songs and other releases, coming together to help develop new talent.
Through this project, City Pop TOKYO will work to reaffirm the usefulness of Web 3.0 technology and NFT and further promote Japanese culture to people worldwide.
・Website: https://www.city-pop.tokyo/
・Twitter: @CityPopTokyoNFT
・Discord: https://www.city-pop.tokyo/
<Participating Businesses>
Kingdom Labs
Kingdom Labs is a venture studio that aims to support and invest in projects in the gaming and toC areas within the Web 3.0 domain. The company provides consistent support to entrepreneurs building innovative business models across various industries, from planning to execution. One of the company's key strategies is to partner with large companies that are expanding their business to Web 3.0 or that exist in a different area but hope to create Web 3.0 services. Kingdom Labs takes a unique, multi-disciplinary approach to maximize the interests of investors and partners, leverage its global team, and to grow its global portfolio and investment experience. The company also operates the world-renowned NFT collection Monkey Kingdom.
Representative: CSO Maurice Ng
URL: https://www.kingdomlabs.com/
UPBOND Inc.
UPBOND offers Wallet, which easily allows customers to manage their assets and connect to many Web 3.0 services. Its non-custodial wallet enables general consumers to easily engage with Web 3.0 marketplaces and allows enterprises to obtain customer information with its decentralized identity solution. UPBOND works with top-notch Japanese corporates to bring their business into this new frontier while also updating customer relationships.
Representative: Director Takashi Mizuoka
Head Office: 6-31-15 Jingumae, Shibuya-ku, Tokyo (8F)
URL: https://www.upbond.io
GEMIE
GEMIE is an Asian entertainment-focused metaverse platform inspired by fan culture. The company aims to help artists achieve their full potential by providing them with the tools, resources, and opportunities they need to reach their goals and allowing them to interact with fans from all over the world without limitations.
Comment: "Instead of holding a talent show by region or country, why don't we do it in the metaverse so there won't be any geographical locations – you will be surprised how many talented artists who are worth a shot are scattered in our everyday life!"
Representative: Co-founder John Fung
URL: https://www.gemie.io/