Licaxxx's Tokyo Community Radio to Hold "sessions," a Training Program Open to the Public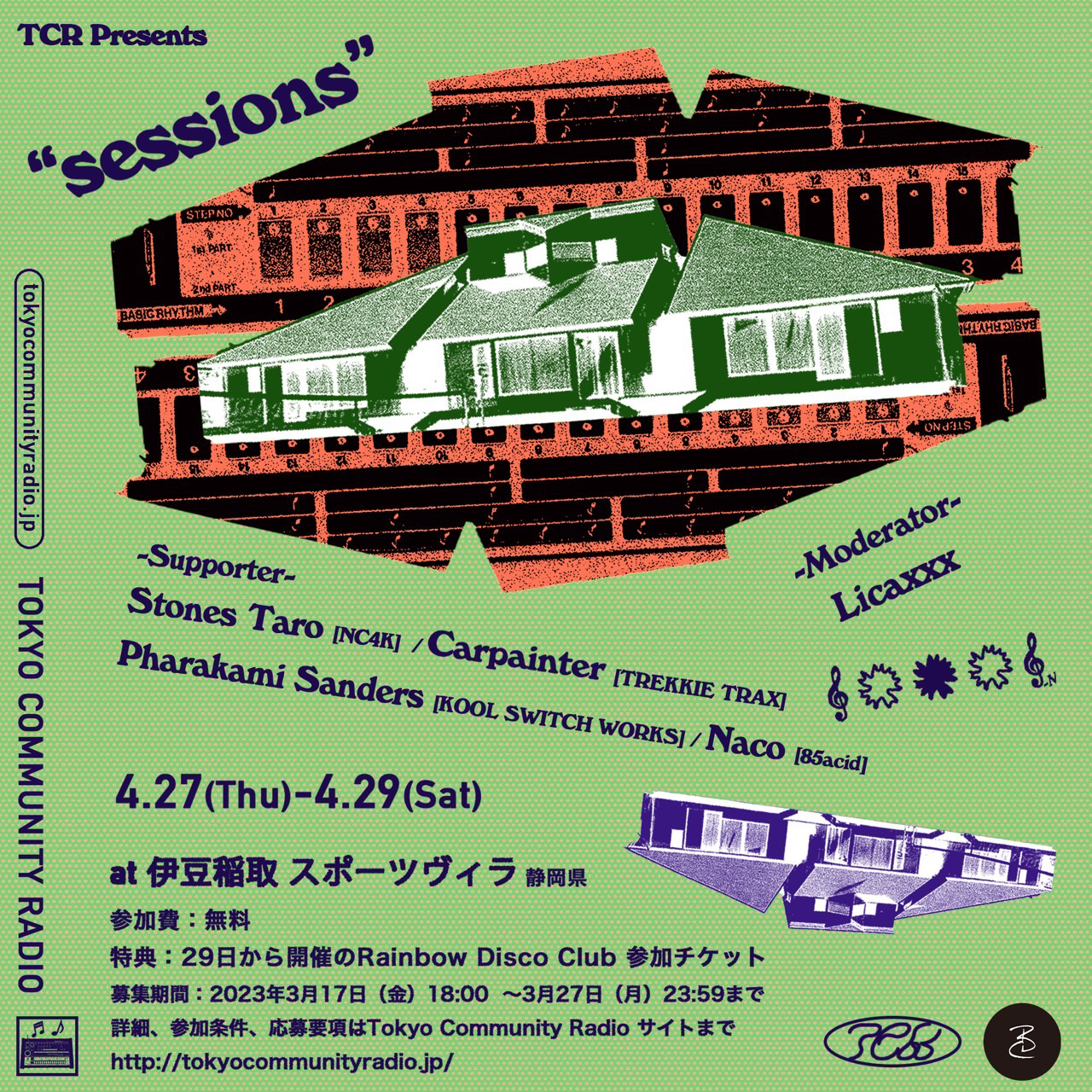 Tokyo Community Radio (TCR), an online radio platform run by the popular DJ Licaxxx, has announced an open call for "sessions." This unique training program will be held from April 27 to 29 at the Izu Inatori Sports Villa in Shizuoka Prefecture.
"sessions" is a program for people who have already started learning more about DTM and want to create or release tracks that can be played by DJs, people who are already DJs, or people who are in the field who have started dabbling in DTM. The event will help those with an interest in music to further develop their skills and will allow brainstorming and networking with like-minded creators. Instead of a series of lectures, "sessions" is what the title implies–a jam session, of sorts. The moderators, including Licaxxx, will share problems they have faced during their careers and how they overcame them, helping visitors in both DTM and DJing. While these seem to be two very different processes, they are very much intertwined.
The first event will be a 3-day, 2-night training camp in Izu, just before the outdoor music festival Rainbow Disco Club (RDC). The program will feature a focus on the technical aspects of creation, individual and group productions, direct advice from moderators and support staff, and detailed discussions on niche topics such as releasing tracks after they are made and promotion. DJs, organizers, and agents will also hold open chats. Supported by RDC and Red Bull, participants will also receive tickets to RDC as a bonus. After the training camp, they will be able to experience some of the world's top-level DJs and trackmakers in person.
Applications are currently being accepted until 23:59 on March 27.
<Comment from Licaxxx>
"TCR is launching a new training program called "sessions."
Focusing on dance music, it's designed for those who have already started with DTM and want to create and release tracks to be played by DJs. It's also perfect for people who are already DJs, or people who are in the field who have started dabbling in DTM.
While the skills needed to DJ and the skills needed to create DTM are totally different, the paths you'll need to take toward both are closely linked. There is no completely correct way to learn, but searching the internet tends to make people even more confused. I think that hearing from your predecessors in the craft and shaping their experiences and pieces of advice to fit your needs will help you in the best way.
With that in mind, we've prepared a session rather than just a lecture, with the intention of sharing problems that we ourselves–who are active in the field–have or have had, and how to overcome them, so that we can all grow together.
The first training camp will be held for 3 days and 2 nights in Izu, just before the RDC. The program will include advice on technical aspects for both individual production and group production, advice from creators, and detailed discussions on niche topics such as releasing tracks after they are made and promotion. We'll also have some talks between DJs, organizers, and agents.
In addition to the support staff listed below, we'll be welcoming several other participants who have been invited by the management. A few open spots are still available, so be sure to apply as support staff if you have something to share with students!
This time, participants will also get tickets to RDC thanks to the incredible support of RDC and Red Bull!!!!
After the training camp, students will be able to experience some of the world's top-level DJs and trackmakers in person.
Be sure to read all the details carefully. I'm looking forward to your applications!!"
<Comment from Rainbow Disco Club>
"We're so honored to be able to contribute to this program dedicated to dance music, even in a small way.
During the three days and two nights of "sessions," we're looking forward to your input. Afterward, you can have all the fun you can handle at RDC!"
■Tokyo Community Radio Presents "sessions" Event Outline
Running: April 27 – April 29, 2023
Venue: Izu Inatori Sports Villa (Shizuoka Prefecture)
Admission: Free
Bonus: Ticket to visit the Rainbow Disco Club starting April 29
Application Period: March 17 – March 27 at 23:59
For more information including entry requirements and application details, visit the Tokyo Community Radio official website.
http://tokyocommunityradio.jp/shows/758/
Moderator: Licaxxx
Support: Stones Taro (NC4K), Carpainter (TREKKIE TRAX), Pharakami Sanders (KOOL SWITCH WORKS), Naco (85acid)
■About Tokyo Community Radio
TCR is a distribution platform based in Tokyo that focuses on introducing both local DJs and up-and-coming DJs from around Japan. The program features all musical genres and showcases both DJ mixes and live performances. In featured podcasts, DJs talk about their music, hobbies, and interests, allowing fans the rare chance to learn more about their favorite creators. The station also cooperates with community radio stations in other Asian cities and supports DJs and artists from Asia and beyond when they visit Japan. In addition to regular DJ sessions and podcasts, TCR also collaborates with corporate events, produces music events, and matches DJs to places and brands
Facebook: https://www.facebook.com/Tokyo-Community-Radio-407604730046277/
Twitter: https://twitter.com/Radio_TCR_jp
Instagram: https://www.instagram.com/tokyocommunityradio/
■Rainbow Disco Club Event Details
Running: April 29 – May 1, 2023
Venue: Higashi Izu Cross Country Course
Official Site: https://www.rainbowdiscoclub.com/