[Event Report] CANDY TUNE, the Newest Idol Group from KAWAII LAB, Holds Debut Performance, FRUITS ZIPPER and IDOLATER Also Take the Stage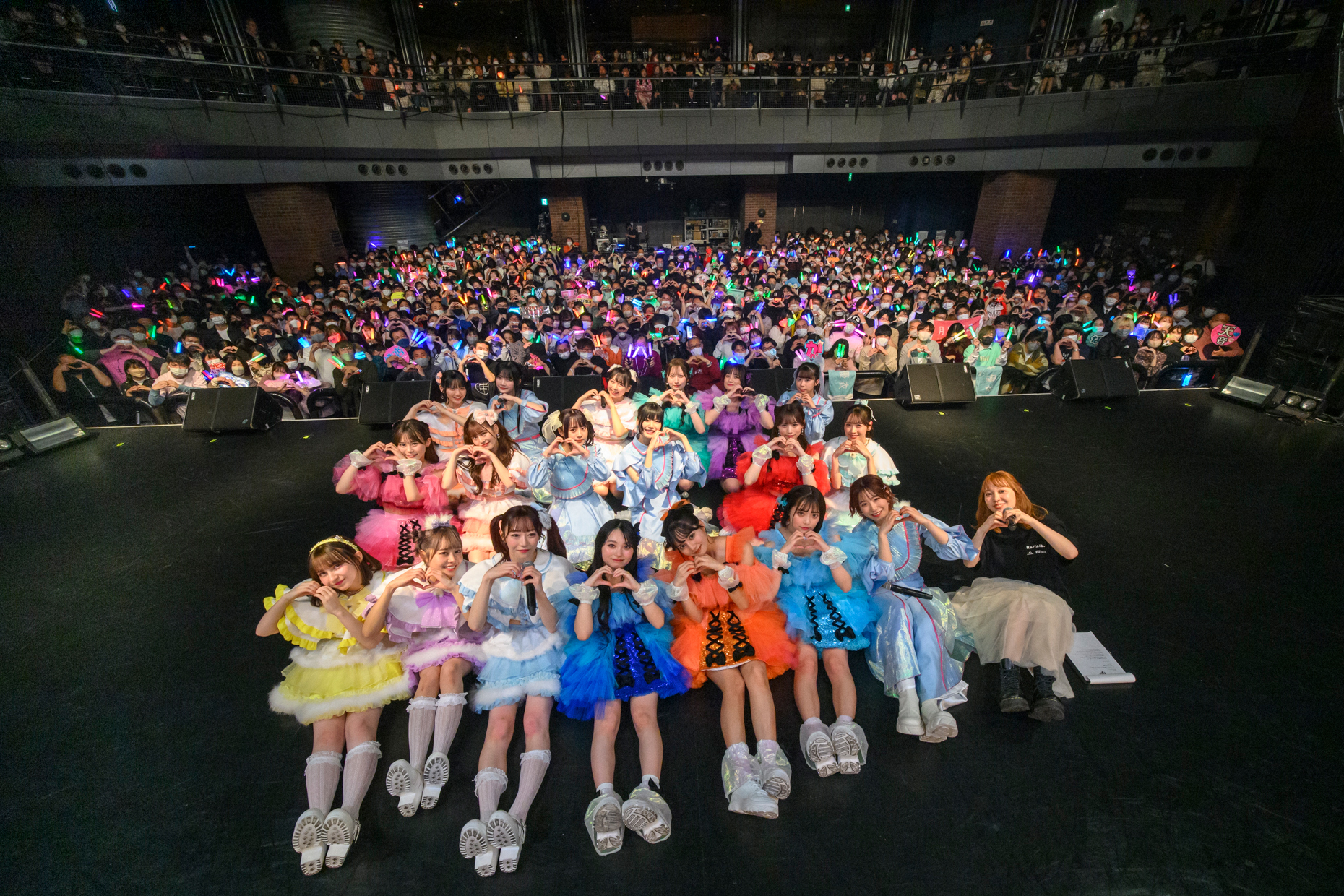 On March 14, ASOBISYSTEM's idol project KAWAII LAB. held a live event at Spotify O-EAST. The event, titled KAWAII LAB. SESSION ~CANDY TUNE~, saw the first-ever performance from CANDY TUNE, the newest idol group from KAWAII LAB, also known for creating the popular groups FRUITS ZIPPER and IDOLATER.
KAWAII LAB. is a new project by ASOBISYSTEM created to introduce Japan's growing idol culture to the world.
FRUITS ZIPPER is one of the most talked-about idol groups in recent memory, with their solo concert shows selling out instantly and their song Watashi no Ichiban Kawaiitokoro pulling in over 690 million views on TikTok. KAWAII LAB also produces IDOLATER, a group known for exploring the boundary of music, fashion, and other unique aspects of culture through an idol perspective.
In March, the seven-member idol group CANDY TUNE was announced. Its members include Rino Fukuyama, Mizuki Kirihara, Natsu Minami, Nanako Ogawa, Bibian Murakawa, Shizuka Miyano, and Kotomi Tachibana.
Tickets for this show were completely sold out in advance. The packed venue was filled with excitement, with fans looking forward to the live performance far before the show started.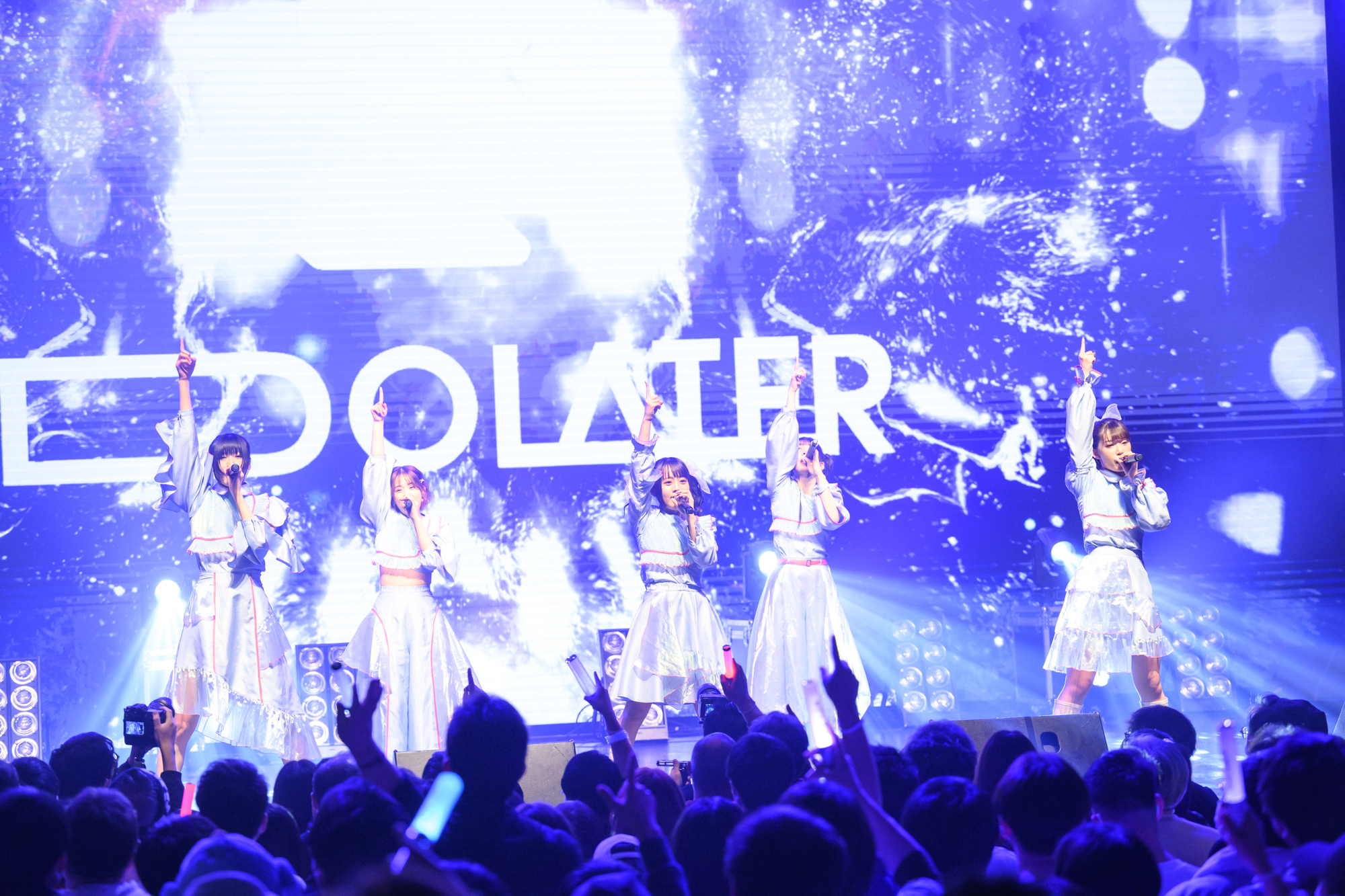 To start, Misa Kimura, a model and talent who serves as the general producer of KAWAII LAB., appeared with FRUITS ZIPPER members Suzuka Chinzei and Runa Nakagawa. Despite the project only being active for one year, she seemed to be filled with incredible emotion at the addition of CANDY TUNE to the lineup, bringing the total number of idols signed to KAWAII LAB to 19.
IDOLATER was the first to take the stage, called out by Misa Kimura herself. Dressed in fashionable light blue outfits, the girls immediately grabbed the fan's hearts with their cool performance of Kesenai…before moving into Endless Summer, Vapor City, Kimini MuCHU♡XX, and Mahouno Kagiwo Teniiretara in quick succession. The girl's potential was on full display as they played hit after hit.
IDOLATER's stylish and clean live performance ended with DIAMOND and Endroll wo Mukaeru Maeni.
When Misa reappeared on stage, she announced that IDOLATER would be holding its anniversary solo concert on April 22 at Spotify O-WEST. Member Fuka Oishi was delighted to be performing at the largest venue in IDOLATER's history. "I'm so thrilled," she said.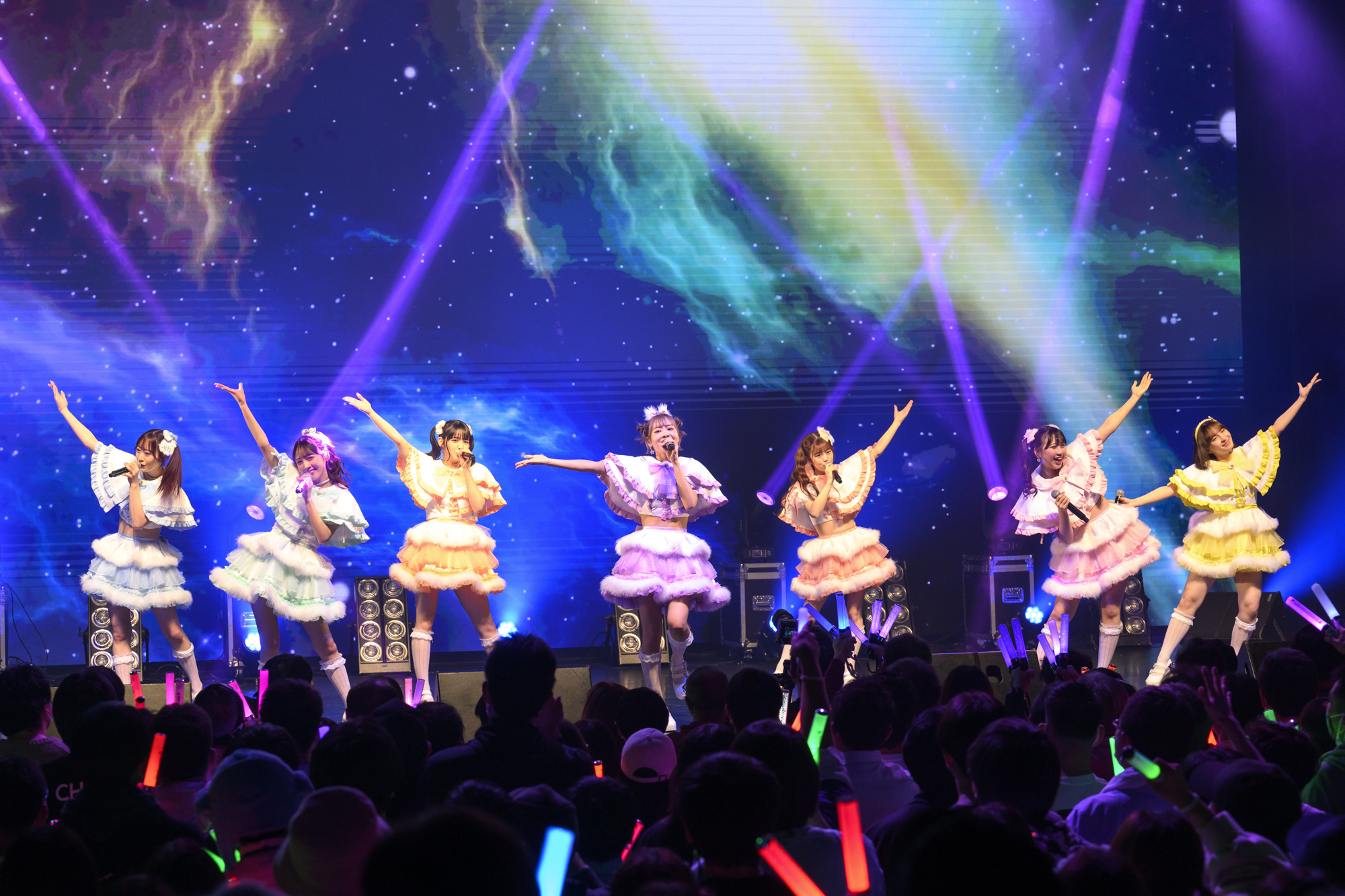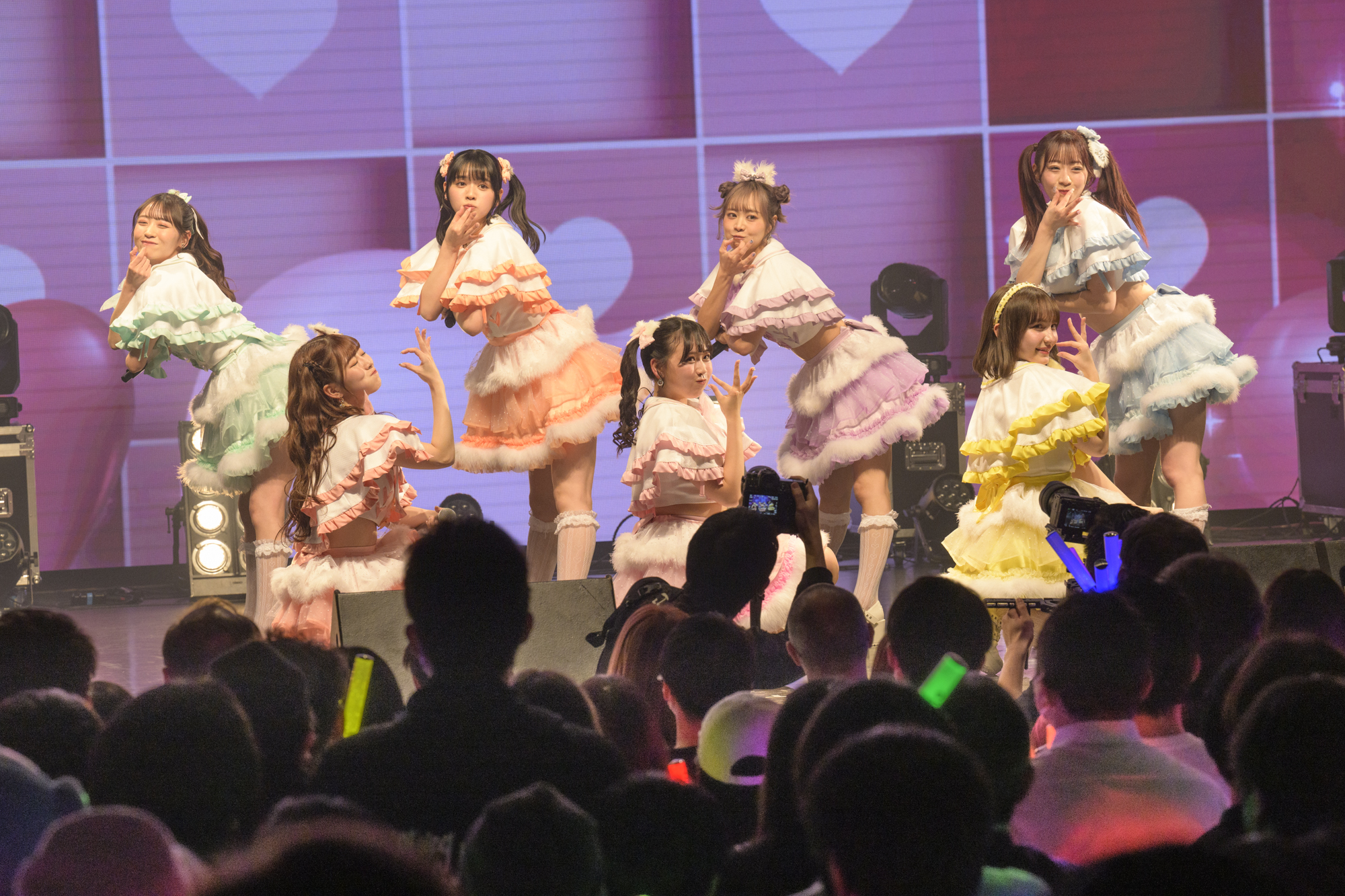 FRUITS ZIPPER took to the stage next, and the venue was immediately illuminated with colorful penlights. The members were greeted with loud applause as the starting track began to play.
The group performed RADIO GALAXY first, and the audience's enthusiasm was palpable as the songs jumped between various genres like a roller coaster ride, from EDM and hip-hop to idol pop and mellow tunes. Continuing into Sekai wa Kimikara Hajimaru, the sweet love song made the audience swoon as they heard the girl's incredible vocals.
Suzuka Chinzei also congratulated CANDY TUNE on its debut during the MC portion of the performance. FRUITS ZIPPER also promised to keep the stage lively until it was their turn to perform at their own debut show.
The group then performed Happy Chocolate, a popular song currently trending on TikTok. Their comical and cute choreography spread into the audience where fans mimicked their moves, making it a truly sweet and memorable moment.
As the girls began performing the fast-paced song Kanpeki Shugide☆, the mood in the venue took a turn, and things became much more lively.
As expected, the group performed the massively-popular track Watashino Ichiban Kawaiitokoro as the finale, and just as Suzuka promised, the audience was all warmed up for CANDY TUNE to finally take the stage!
Just as was the case with IDOLATER, another major announcement was made during the MC portion. The first KAWAII LAB Official Fan Club event for FRUITS ZIPPER was announced to take place on April 10 at Shirokane Takanawa SELENE b2. The group's first live show was originally scheduled to take place at this venue on April 10 last year, but it was postponed due to the pandemic.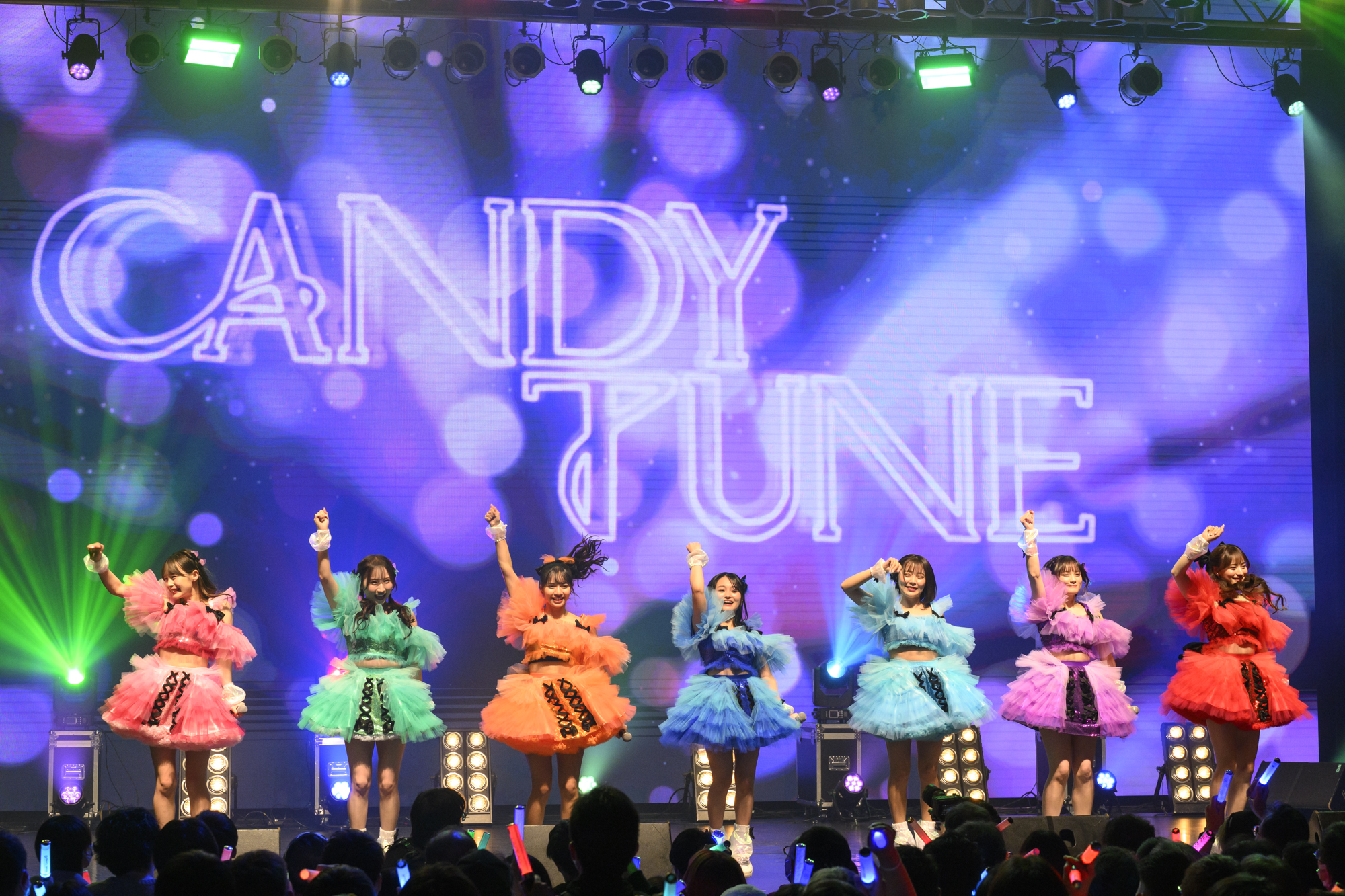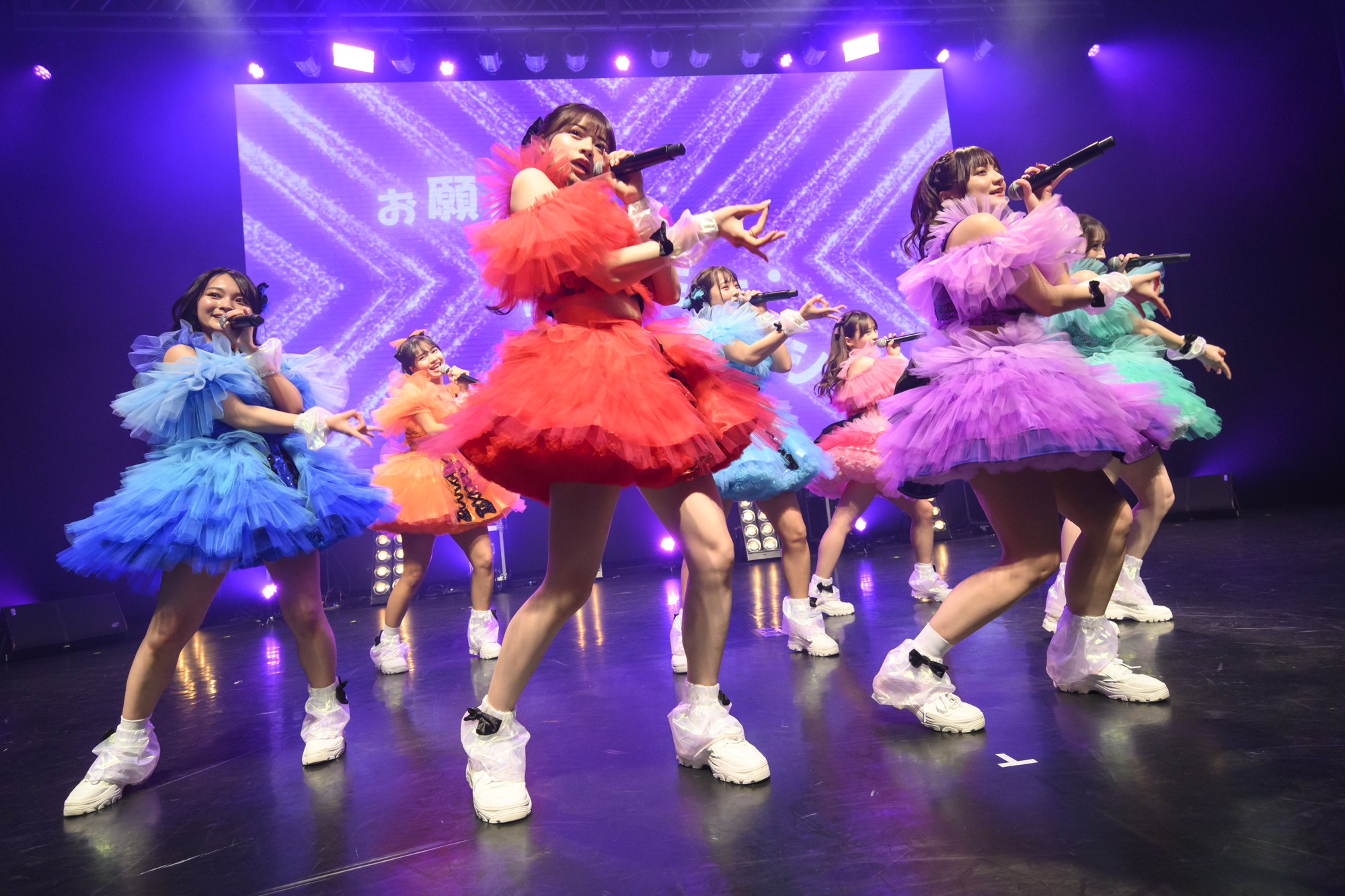 Finally, it was time for the new group CANDY TUNE to appear. Misa Kimura took to the stage first "I'm so nervous," she said to the audience. "Can we get some cheers?"
The fans erupted with loud applause, and soon after, the seven members of the group–Rino Fukuyama, Mizuki Kirihara, Natsu Minami, Nanako Ogawa, Bibian Murakawa, Shizuka Miyano, and Kotomi Tachibana–took their first steps onto the stage, ready to share the wonders of Harajuku with the world.
Dressed in colorful outfits, they first performed hanamaru, a song written to cheer up anyone who listens to it. The girls were clearly a little nervous, but they danced as hard as they could, obviously doing their very best. As the song blended into Kiss Me Patissier, the audience erupted–it was hard to believe that this was the first time that the song had ever been performed live. The song is one of the most popular tracks from the group's first album, and its flirty lyrics immediately melted fans' hearts.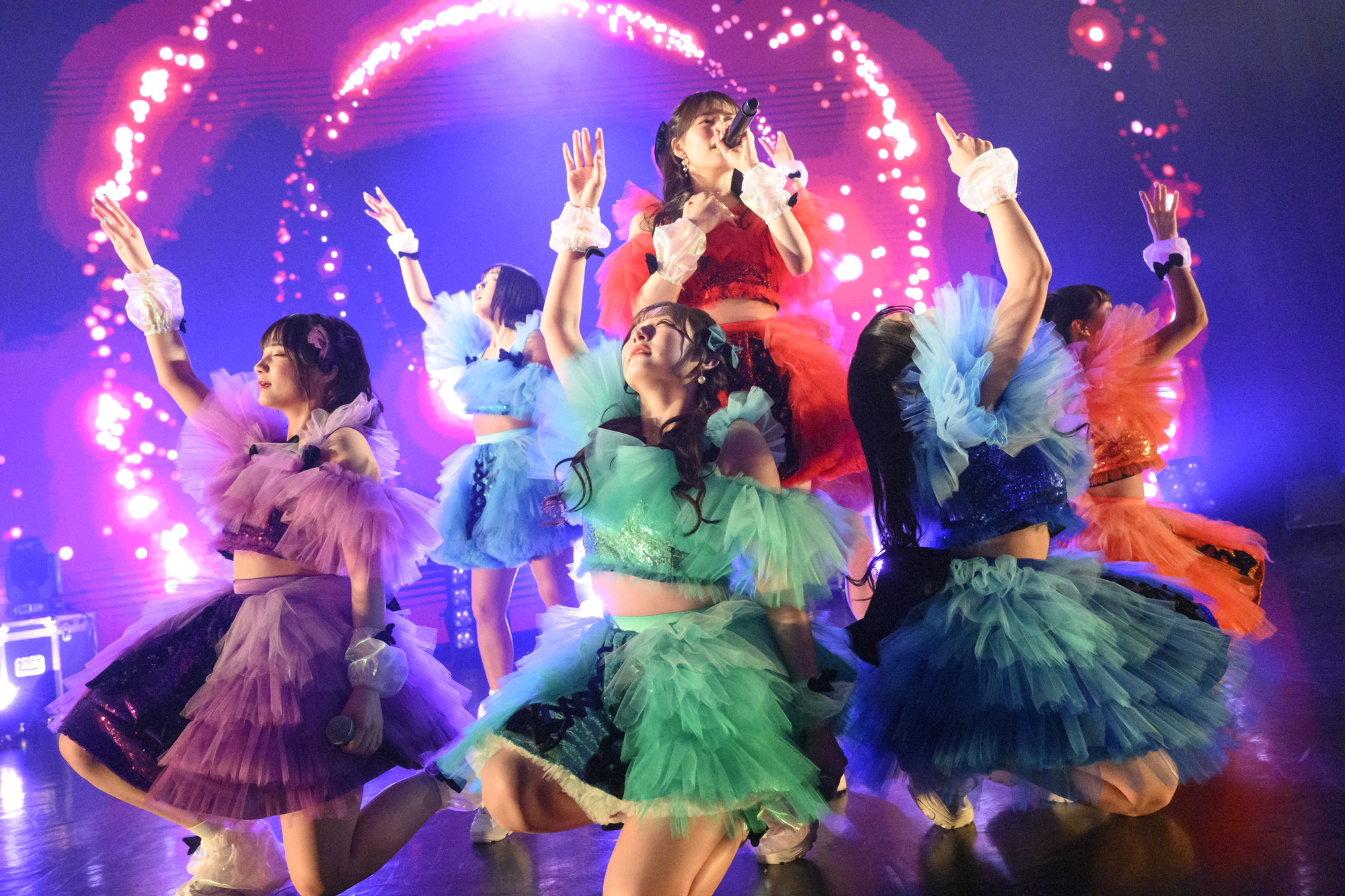 During the MC, Murakawa, a former HKT48 member and veteran idol, spoke to the fans. "Isn't this venue too full," she said with a laugh. Each girl introduced herself, offering some insight into why they had become idols and what they hoped to achieve going forward. It seemed that their time chatting had cut through the tension, and they performed Nanairo Prologue in high spirits. As if in sync with the members, the fans' voltage also rose to a fever pitch, and following the performance of Mikan na Seishun, the audience exploded with thunderous applause.
After all four songs from the group's first album had been performed, it was revealed that, like the senior groups in KAWAII LAB, CANDY TUNE also had a surprise to reveal. On the big screen, it was announced that CANDY TUNE's first solo live performance would be held at Spotify O-WEST on June 27. The members immediately shouted with joy.
"Aren't you full yet," Murakawa asked the audience, before announcing one more song.
CANDY TUNE performed hanamaru again, but unlike the first time, a music video produced in secret for the occasion played on the screen. Sounds of surprise and excitement immediately erupted from those in the audience.
The audience's voltage was at its highest during this performance, which was synchronized with the music video featuring the members in cute cheerleader outfits and a picnic scene that their friendship with one other. Although it was their first time on stage together, the seven members showed as much poise and dignity as their seniors.
At the end, each member shared a message with their fans. "I have a bad habit of second-guessing my own happiness. There have been so many times in my life when I wonder if I should be as happy as I am–but right now, I'm so incredibly overjoyed," said Fukuyama.
"I was so nervous before we got here," said Kirihara. "But when I saw all of your faces, I knew from the bottom of my heart that I had made the right choice to become an idol!"
"Even if I'm reborn, I hope to stand on this same stage again," said Minami while crying.
"I didn't really feel like an idol until today, and I was so afraid to stand up here in front of a packed audience," said Ogawa. "I never thought I'd be an idol," echoed Tachibana. Both showed intense appreciation for the countless fans that had gathered at the venue.
"I will always cherish this moment," said Miyano. "I hope to make many more memories in the future!"
"I never thought I could care for people so quickly after meeting them," said Murakawa, shedding a few tears. "I have so much love and affection for everyone, and I want the seven of us to keep working hard to share Harajuku with the world. Standing here now, I know that we can become an idol group loved around the globe!"
After each group had finished their performances, all 19 idols from all three KAWAII LAB groups stood on the same stage together.
As a final surprise, Misa Kimura announced that KAWAII LAB. SESSION would be held on June 12 at Zepp Shinjuku, a venue scheduled to open in April. "I'm so excited that we get to perform at Zepp," said FRUITS ZIPPER member Yui Sakurai.
With excitement in the venue still building, the final performance and the long-awaited collaboration began. All 19 members formed a circle and began to perform FRUITS ZIPPER's breakout hit Watashi no Ichiban Kawaiitokoro. Fans in the audience were permitted to record during this part of the concert, and after the show concluded, countless videos were posted to social media sites.
A project to shoot a TikTok video of Happy Chocolate with the audience also took place at the end of the event. FRUITS ZIPPER member Mana Manaka gave a brief explanation of the choreography before taking a video of the fans gathered at the venue. The night ended as the idols and fans danced together.
KAWAII LAB is continuing to produce cutting-edge idols ready to be shared with the world. With the addition of CANDY TUNE, the future is looking bright, and fans will want to watch out for what's coming next.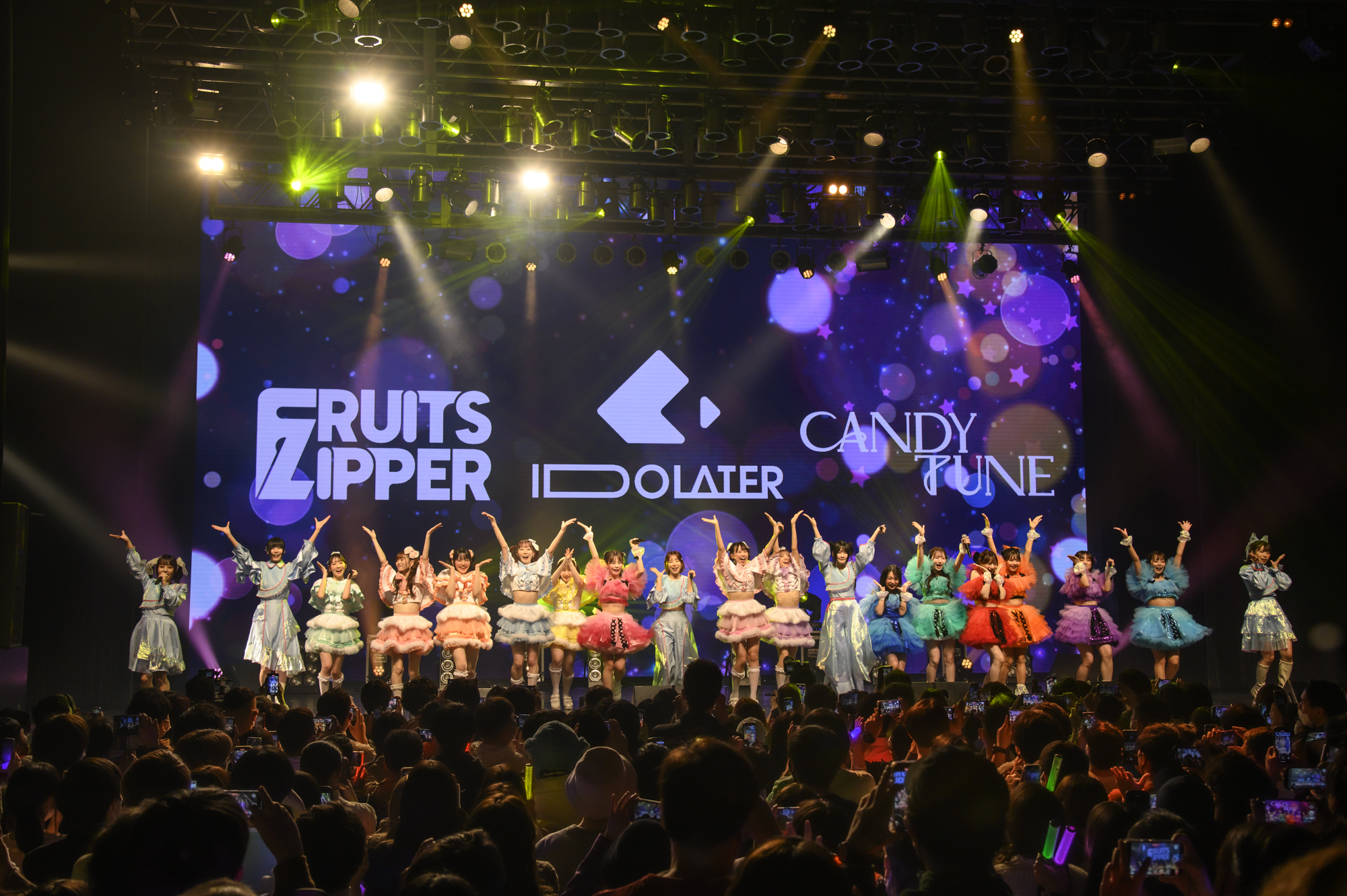 Text: Masatoshi Mayuzumi
Photo: Shinsuke Hayashi / Miki Higashi
■Setlist
[IDOLATER]
Kesenai…(short ver.)
Endless Summer
Vapor City
Kimi ni MuCHU♡XX
Mahouno Kagiwo Teniiretara
DIAMOND
Endrollwo Mukaeru Maeni
[FRUITS ZIPPER]
RADIO GALAXY
Sekaiwa Kimikara Hajimaru
Happy Chocolate
Kanpeki Shugide☆
Watashino Ichiban Kawaiitokoro
[CANDY TUNE]
hanamaru
Kiss Me Patissier
Nanairo Prologue
Mikanna Seishun
hanamaru (MV.ver)
[KAWAII LAB.]
Watashi no Ichiban Kawaiitokoro
<FRUITS ZIPPER FC限定ライブ「FIRST CONTACT」>
日程:2023年4月10日(月)
会場:白金高輪SELENE b2
時間:開場17:30 / 開演18:30
料金:一般スタンディング 前売 4,500円(税込)
※ドリンク代別
※KAWAII LAB. OFFICIAL FANCLUB 会員限定のイベントです。
※同行者もファンクラブ会員に限ります。入場時にファンクラブ会員か確認させていただきます。
詳細
https://kawaiilab.asobisystem.com/news/detail/10284
<IDOLATER Anniversary LIVE>
日程:2023年4月22日(土)
会場:Spotify O-WEST
時間:開場17:30 開演18:30
料金:VIPスタンディング 10,000円(税込)
VIP特典:
・客席前方エリアへのご案内
・記念グッズ贈呈
一般スタンディング 1,500円(税込)
※ドリンク代別
詳細
https://kawaiilab.asobisystem.com/news/detail/10283
<KAWAII LAB. SESSION>
日程:2023年6月12日(月)
会場:Zepp Shinjuku (TOKYO)
時間:開場17:30 開演18:30
出演:IDOLATER、FRUITS ZIPPER、CANDY TUNE
料金:優先スタンディング 5,000円(税込)/ 一般スタンディング 3,000円(税込)
※ドリンク代別
詳細
https://kawaiilab.asobisystem.com/news/detail/10281
<CANDY TUNE 初単独公演>
日程:2023年6月27日(火)
会場:Spotify O-WEST
時間:開場17:30 開演18:30
料金:優先スタンディング 5,000円(税込)/ 一般スタンディング 2,000円(税込)
※ドリンク代別