Illustrator BEY to Hold Solo Exhibition at Two Tokyo Venues Simultaneously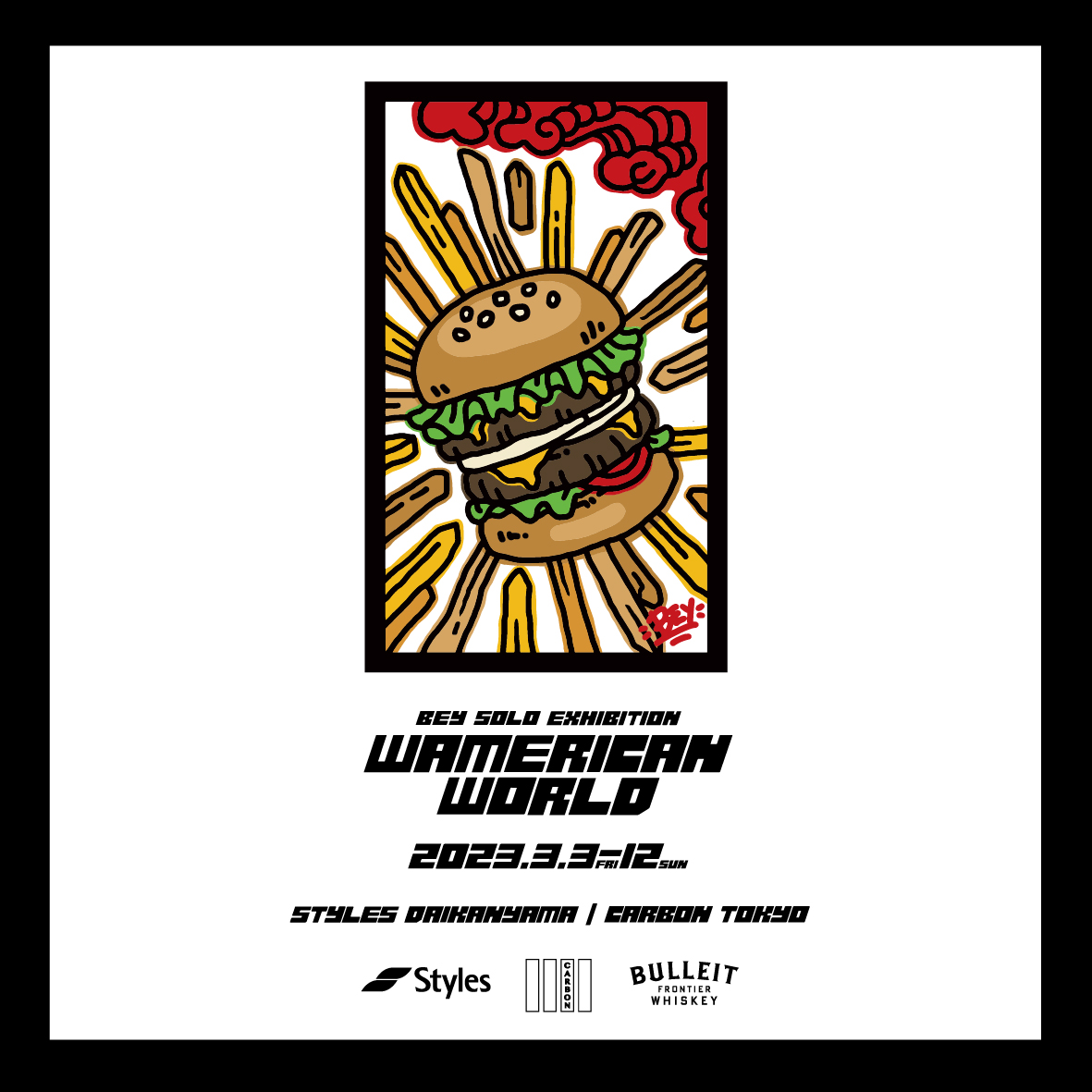 Illustrator BEY has announced the solo exhibition WAMERICAN WORLD will be held simultaneously at both Styles DAIKANYAMA and CARBON TOKYO in Tokyo starting on March 3.
BEY's art portrays a 'Wamerican' theme, which blends traditional Japanese art styles like ukiyo-e with American pop culture. This curious style combines familiar pieces of pop art found in the U.S. with Japanese art's depth and elegance.
In this solo exhibition, guests can enjoy this 'Wamerican' world in two unique venues: Styles DAIKANYAMA in the daytime and CARBON TOKYO in the evening.
BEY SOLO EXHIBITION – WAMERICAN WORLD –
Running: March 3 – March 12, 2023
[Venue 1] Styles DAIKANYAMA
Address: Proud Daikanyama Front 1F (11-3 Sarugakucho, Shibuya-ku, Tokyo)
Phone: 03-6415-7722
Hours: 11:00 – 20:00
Google Maps: https://goo.gl/maps/784Ej7zHiN5dUmiz6
[Venue 2] CARBON TOKYO
Address: J-1 BLD 2F (1-19-10 Dogenzaka, Shibuya-ku, Tokyo)
Phone: 03-5428-5477
Hours: 20:00 – 26:00 (Closed Sunday)
Google Maps: https://goo.gl/maps/xVVhjZKEkVSHy68B6
▼Exhibition Details
Each exhibition will feature framed canvas works and printed framed works. The merch lineup includes three original long sleeve T-shirts, socks, traditional Hanafuda playing cards, three unique posters, two unique sticker sets, and more.
▼Bonuses
An original poster and sticker will be available exclusively for ticket holders.
*Available while supplies last.
<Reception Party>
Date: March 3, 2023 / 18:00 – 20:00
Venue: Styles DAIKANYAMA
Contents:
1. Artist Visit
BEY will be in attendance starting at 18:00.
2. Free Drink Service
Drink service will be provided by CARBON, a casual bar located in Dogenzaka. An original highball made with Bulleit Bourbon from the U.S. will be served to visitors.
*Drinking alcohol under the age of 20 is strictly prohibited. The staff may ask for your ID.
<BEY's Gallery Visit>
Date: March 4, 2023
Venue: Styles DAIKANYAMA
Details: BEY will be available to sign purchased goods on this date. Come enjoy this rare opportunity to meet the artist!
*Gallery hours will be announced on BEY's official Instagram page, as well as Styles' official Instagram page.
BEY
Instagram: beytaro_0912