New Song 'Jyanaindayo' by ATARASHII GAKKO! to Serve as Theme Song for Baby Assassins 2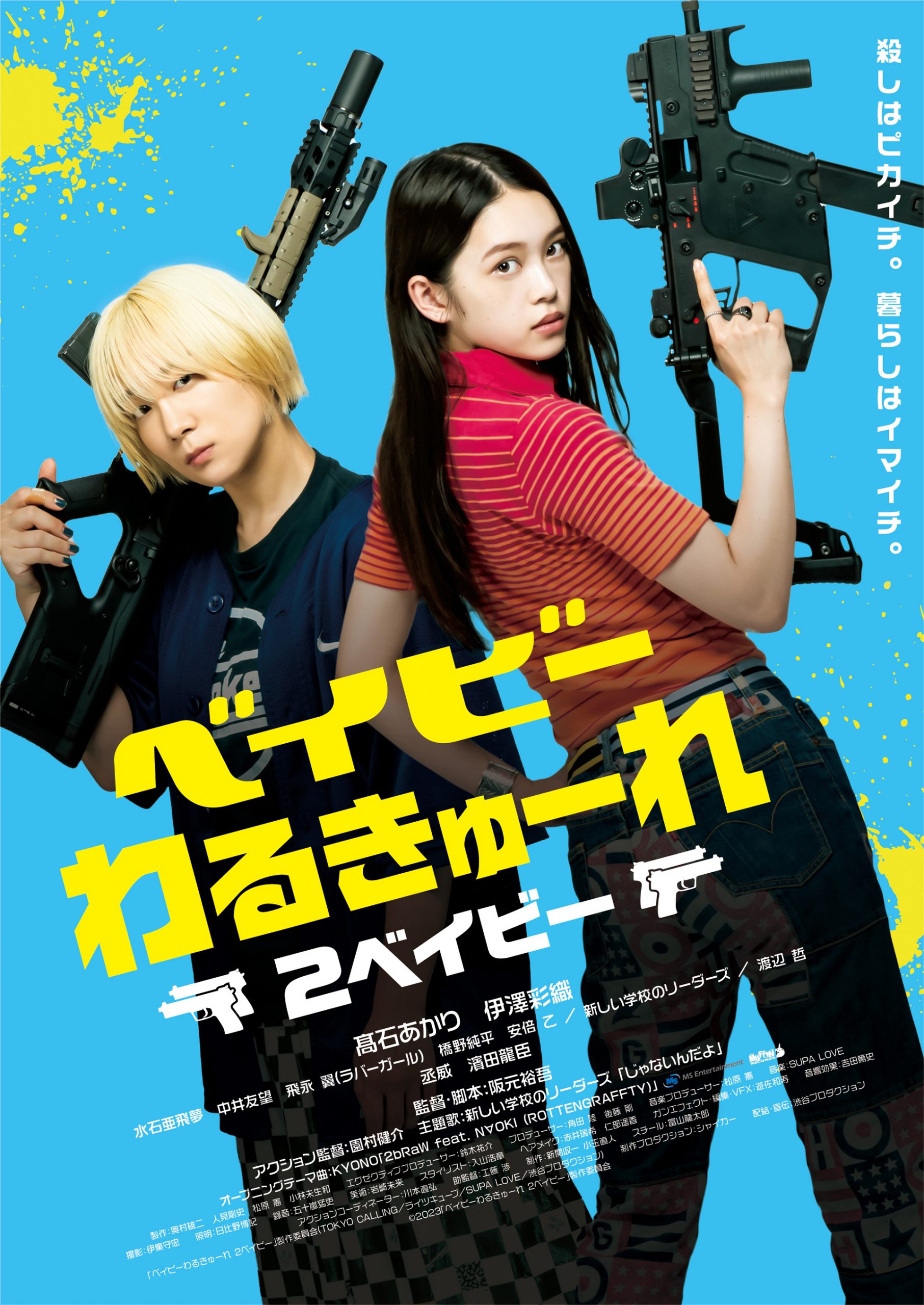 The newest track from the popular dance and vocal unit ATARASHII GAKKO! titled Jyanaindayo will be used as the theme song for the upcoming film Baby Assassins 2, releasing in theaters on March 24, 2023. A special trailer for the movie has also been revealed.
Baby Assassins is a coming-of-age action film that follows two female hitmen who are incredibly skilled at killing, but incredibly unskilled at adjusting to modern society. The original film was released on July 30, 2021 and ranked at the top spot in Filmarks' first-day satisfaction ranking, also winning for Best New Director and Best New Actress at the Japan Movie Critics Awards.
It has also been announced that the four members of ATARASHII GAKKO! will appear as themselves in Baby Assassins 2.
ATARASHII GAKKO!
2/16/2023
A new trailer and comments from the members of Atarashii Gakko! are now available.
<Theme Song Performer: SUZUKA (Atarashii Gakko!)>
"When I saw the completed film, I was so impressed by how professional the action shots were. At the same time, the actors have such a great sense of humor and can still make you laugh. We had a lot of fun. When our song Janaindayo played at the end, it hit me hard! I was grinning, like, "that couldn't be our song, could it?" Thank you so much!"
<Theme Song Performer: RIN (Atarashii Gakko!)>
"When Janaindayo starts playing during the credits after such an incredible battle, I realized that the depth of what I felt was only possible because I had watched the whole film. This extraordinary world is totally normal for these tough women. This movie will make you realize that not everything is always as it seems…I hope you enjoy the film and our song together!"
<Theme Song Performer: MIZYU (Atarashii Gakko!)>
"The fighting and action scenes in this movie were so cool. Seeing such incredible action on a massive screen makes it even more powerful! The director's playful spirit comes through in the dialogue, and I laughed and smiled a ton. I was happy to hear our theme song Janaindayo during the credits–it seemed to match the two main stars, like a theme song for them. I would love to see it in the theater again, and I hope that all kinds of people go to see it too!"
<Theme Song Performer: KANON (Atarashii Gakko!)>
"This is our first theme song for a movie, so I'm just overjoyed and so excited! When I saw the finished film and our song was played during the credits, I felt a shiver run down my spine. We're truly honored to have provided the theme song for such a wonderful film. I hope you enjoy listening to this powerful and thrilling song that matches so well with this awesome movie!"
Baby Assassins 2
Release Date: March 24, 2023 at Shinjuku Piccadilly Cinema and other theaters nationwide
Director/Screenwriter: Yugo Sakamoto
Action Director: Kensuke Sonomura
Theme Song: Jyanaindayo – ATARASHII GAKKO!
Distribution/Promotion: Shibuya Production
[Summary]
Chisato (Akari Takaishi) and Mahilo (Saori Izawa) are at a loss again. The world is all about money–money for gym memberships, money to change their insurance plan, money for driving school, money, money, money. The money is gone, and around the same time, brothers Yuuri (Joey Iwanaga) and Makoto (Tatsuomi Hamada), part-time employees at an association of hitmen, also find themselves at a loss. After a mistake was made by the higher-ups, the two weren't paid for their work–and even if they were, not being full-time employees mean that the money would be lacking anyway. The world is all about money, money, money, and they want plenty of it. As it turns out, the two could be promoted if they just take Chisato and Mahilo's positions. Chisato and Mahilo are soon involved in a bank robbery and work part-time in mascot costumes…it doesn't look easy. But the two brothers are starting to close in…!
Men and women may be vastly different, but could the four have become friends in another life? Is a life of crime as lonely as we think?
Official Site
https://babywalkure.com/
©2023「ベイビーわるきゅーれ 2 ベイビー」製作委員会