ATARASHII GAKKO! Announces First Overseas Tour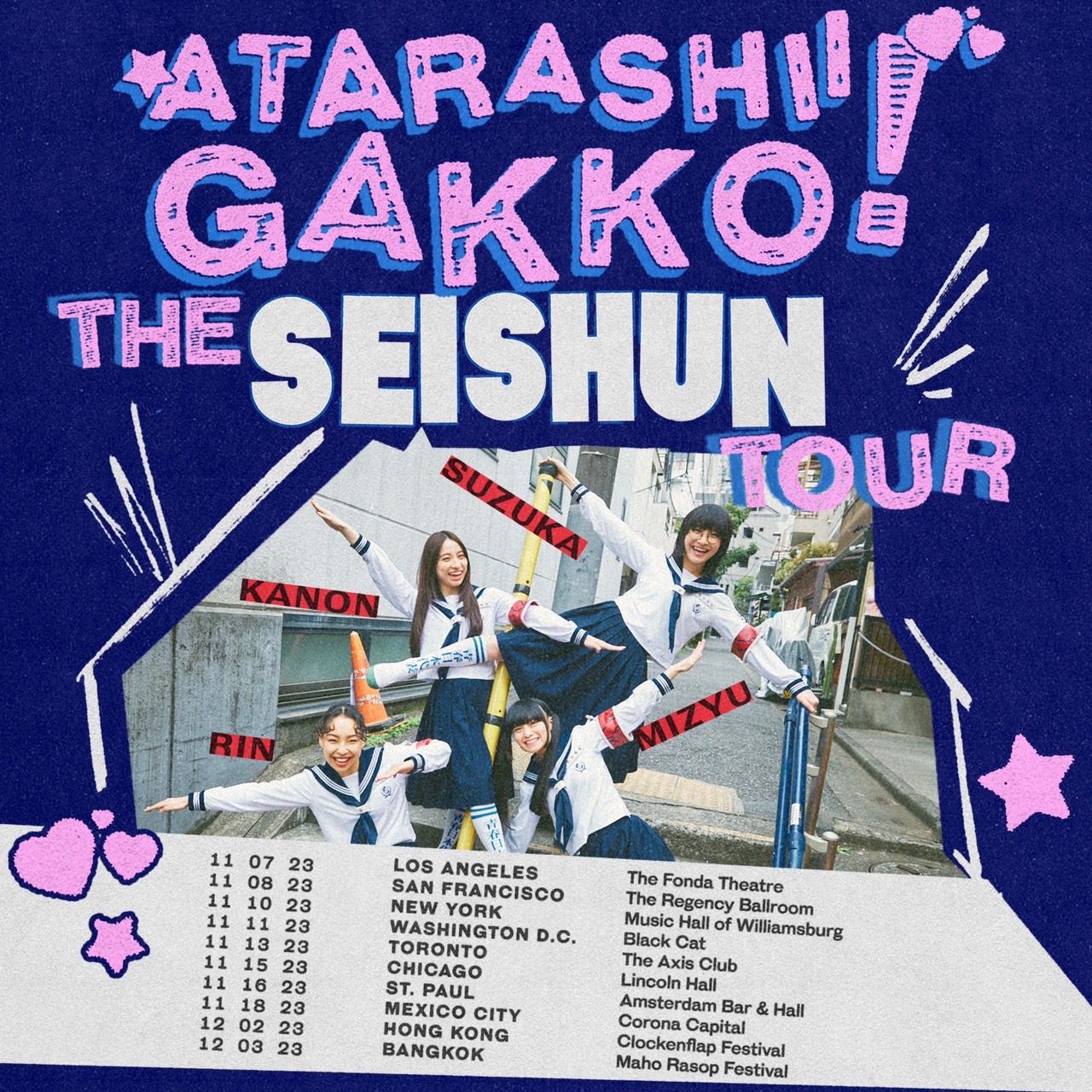 After releasing the new MANINGEN EP on August 16, the members of ATARASHII GAKKO! announced that they would embark on their first overseas tour, ATARASHII GAKKO! The SEISHUN Tour, this November.
The group's song OTONABLUE has reached an astounding 3.1 billion views on TikTok, winning the TikTok Trending Award for the first half of 2023 with over 14 million followers on the social media site. ATARASHII GAKKO! performed in New York in May and at the Head in the Clouds festival in Los Angeles in July, continuing to make headlines. Their tour will kick off at the Fonda Theater in Los Angeles and continue for 10 shows across North America, Hong Kong, and Bangkok.
Before embarking on their global tour, the group will perform a solo show at the Tokyo Metropolitan Gymnasium on October 29. Tickets sold out quickly, and the group's more dedicated fans can't wait for the rare opportunity to see ATARASHII GAKKO! perform solo in Japan.
ATARASHII GAKKO! The SEISHUN Tour
(All dates local time)
11/7 Los Angeles, CA – The Fonda Theatre
11/8 San Francisco, CA – The Regency Ballroom
11/10 New York, NY- Music Hall of Williamsburg
11/11 Washington, D.C.- Black Cat
11/13 Toronto, ON- The Axis Club
11/15 Chicago, IL – Lincoln Hall
11/16 St. Paul, MN- Amsterdam Bar & Hall
11/18 Mexico City, MX- Corona Capital (https://www.coronacapital.com.mx/)
12/2 Hong Kong- Clockenflap Festival (https://www.clockenflap.com/) *Tickets available anytime
12/3 Bangkok, TH- Maho Rasop Festival (https://www.mahorasop.com/) *Tickets available anytime
[Tickets]
Spotify Presale: August 17, 2:00AM ~ Limited 1-day sale
General Sales: August 18, 10:00AM (August 19, 2:00AM JST)
Special Tour Site
https://atarashiigakko.com/atarashii-gakko-the-seishun-tour
<NEW EP>
MANINGEN EP – ATARASHII GAKKO!
Release Date: August 16
【Tracklist】
M1: MANINGEN
M2: KOIBUMI
M3: Que Sera Sera
M4: OTONABLUE – From THE FIRST TAKE
M5: NERAIUCHI (50 th anniversary cover)
Streaming URL: https://lnk.to/MANINGEN_EP