NFT Project City Pop TOKYO Announces Business Partnership with AR Metaverse IZUMO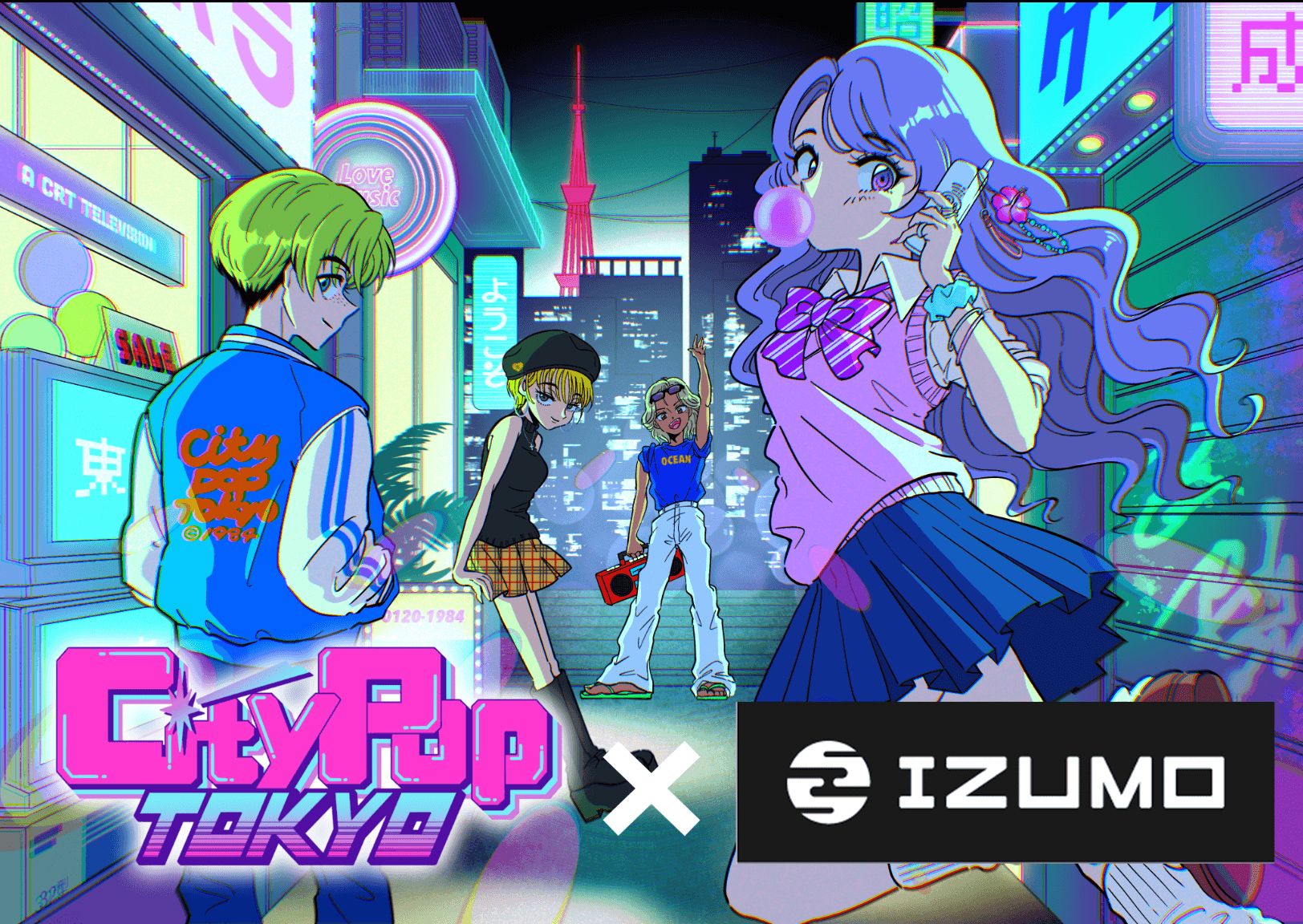 City Pop TOKYO, a well-known NFT project, has announced a business partnership with the IZUMO AR Metaverse, the world's first AR Metaverse creating new possibilities using both AR technologies and web3. The latter is sponsored by GIFT Community Limited (Headquarters: Hong Kong, Representative: Tomohito Oginome) and aims to give users more opportunities to enjoy unique artistic worlds.
City Pop TOKYO is a joint NFT project operated by three companies: ASOBISYSTEM, known for supporting diverse artists and creators; Kingdom Labs, which operates an NFT project in Hong Kong and boasts recorded sales of over 500 million yen; and UPBOND Corporation, which is developing a Wallet using blockchain technology for the social implementation of Web 3.0.
Through this new partnership, City Pop TOKYO aims to fuse the real and digital worlds and work with the community to create a new popular IP from Japan while utilizing AR technology. By adding City Pop TOKYO to IZUMO, both companies hope to grow symbiotically, and more IPs can enjoy each service in newly-designed virtual spaces.
Additionally, AR stickers will be available for a limited time to commemorate Natsumi Sato's solo exhibition. The illustrator designed the characters for City Pop TOKYO's main collection.
■Limited Time AR Stickers on Sale
Natsumi Sato, the illustrator who designed the characters for City Pop TOKYO's main collection, will be holding a solo exhibition in Osaka. AR stickers will be available for a limited time to coincide with the event.
【AR Sticker Design】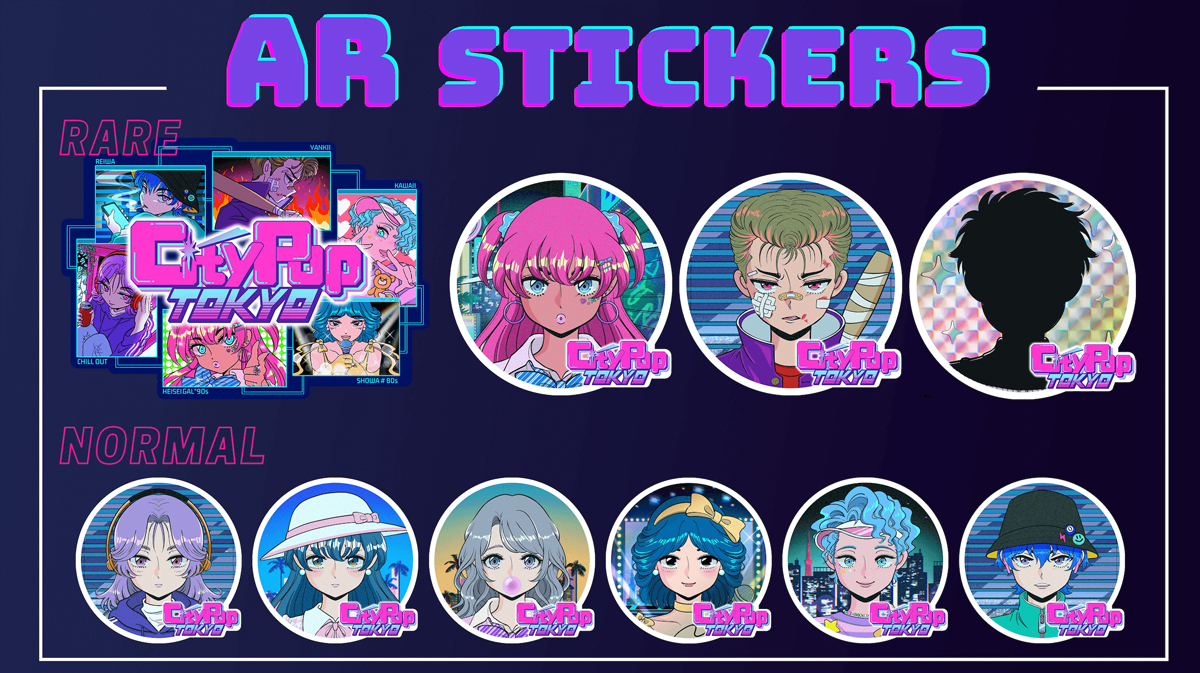 Price: 5MATIC (Around ¥500)
Available: August 3 – August 20, 2023
Amount Available: To be announced on City Pop TOKYO's Twitter and Discord
How to Purchase: Buy on the mint site. The URL will be posted on City Pop TOKYO's Twitter and Discord soon.
Sticker Pattern: There will be 10 sticker designs and buyers will receive one at random.
[How to Apply the AR Sticker]
Detailed instructions will be announced on City Pop TOKYO's Twitter and Discord.
Download the IZUMO AR App
Once inside the app, find the location where you'd like to place the AR Sticker.
Follow the instructions in the IZUMO AR Sticker Operation Guide, which will be posted at a later date.
[Appearance Inside the IZUMO AR Metaverse]
*The AR image seen above is a sample and differs from the design of the available AR sticker.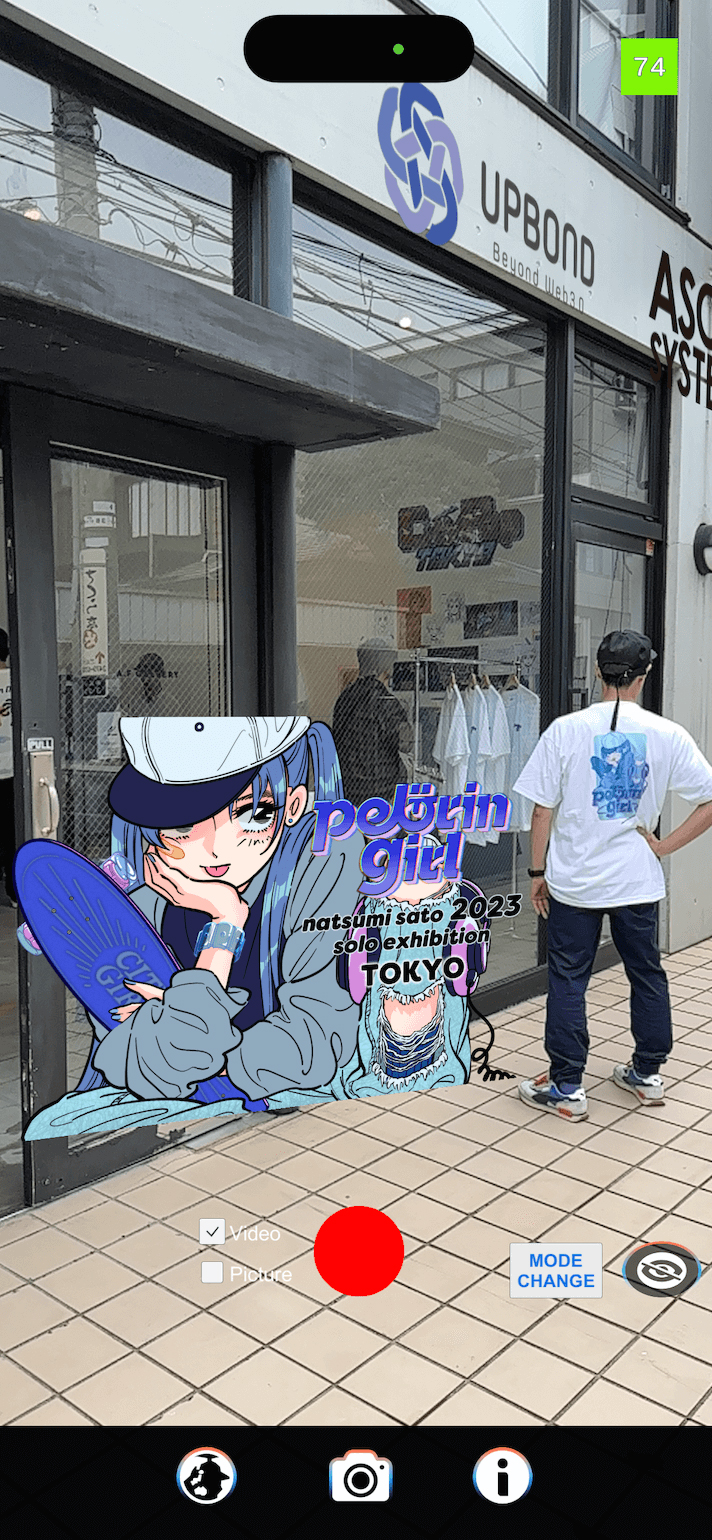 ■ About the IZUMO AR Metaverse
The world's first* augmented reality (AR) based metaverse. The IZUMO AR Metaverse allows users to install images stored on their smartphones or NFTs in their wallets as AR art in the real world.
The AR art is also interactive, so it can not only be viewed by other users, but can also be bought and sold as NFTs. By utilizing the power of the IZUMO AR Metaverse, users can transform themselves into 'famous AR artists.'
The emergence of the AR metaverse is expected to evolve people's ability to freely create, exhibit, and sell works of art in the real world. Similar to existing street art, the new tool aims to become a hit with new-age creators, who will be able to "extend their creative activities in an unprecedented realm" by displaying AR art along city streets.
Website: https://www.izumo.world/
<Solo Exhibition Details>
"pelorin girl" – Natsumi Sato's Solo Exhibition (Osaka)
Running: August 3 – August 20, 2023
Artist Attending: August 11 – August 13, 2023
Venue: Community Food Hall Osaka・Nipponbashi
Hours: 10:00~22:00 (Last Order 21:30) *Open 10:00~18:00 on August 20
Natsumi Sato
Twitter: @peloringirl
Instagram: @peloringirl
<About City Pop TOKYO>
City Pop TOKYO plans to release 1984 NFTs based on City Pop, a music genre from Japan that is immensely popular worldwide, particularly among Gen Z. The project's characters are featured in trendy outfits and makeup representing symbolic fashion styles in Japan, such as "GAL," "SHOWA," and "REIWA". After the NFTs are sold, they will be entered into an event titled "METAVERSE'S GOT TALENT." Fans will be able to support their favorite virtual idol on Twitter, and winners will be sighed to ASOBISYSTEM to begin their professional activities ranging from appearing in advertisements to releasing music. Members of the community can vote and give feedback, helping to develop their favorite talent's career.
The project hopes to show off the usefulness of Web 3.0 technology while promoting Japanese culture to audiences worldwide.
Website: https://www.city-pop.tokyo/
Twitter: @CityPopTokyoNFT
Discord: https://www.city-pop.tokyo/