Auditions Now Open for Hokkaido Residents, Hokkaido Branch Office Opens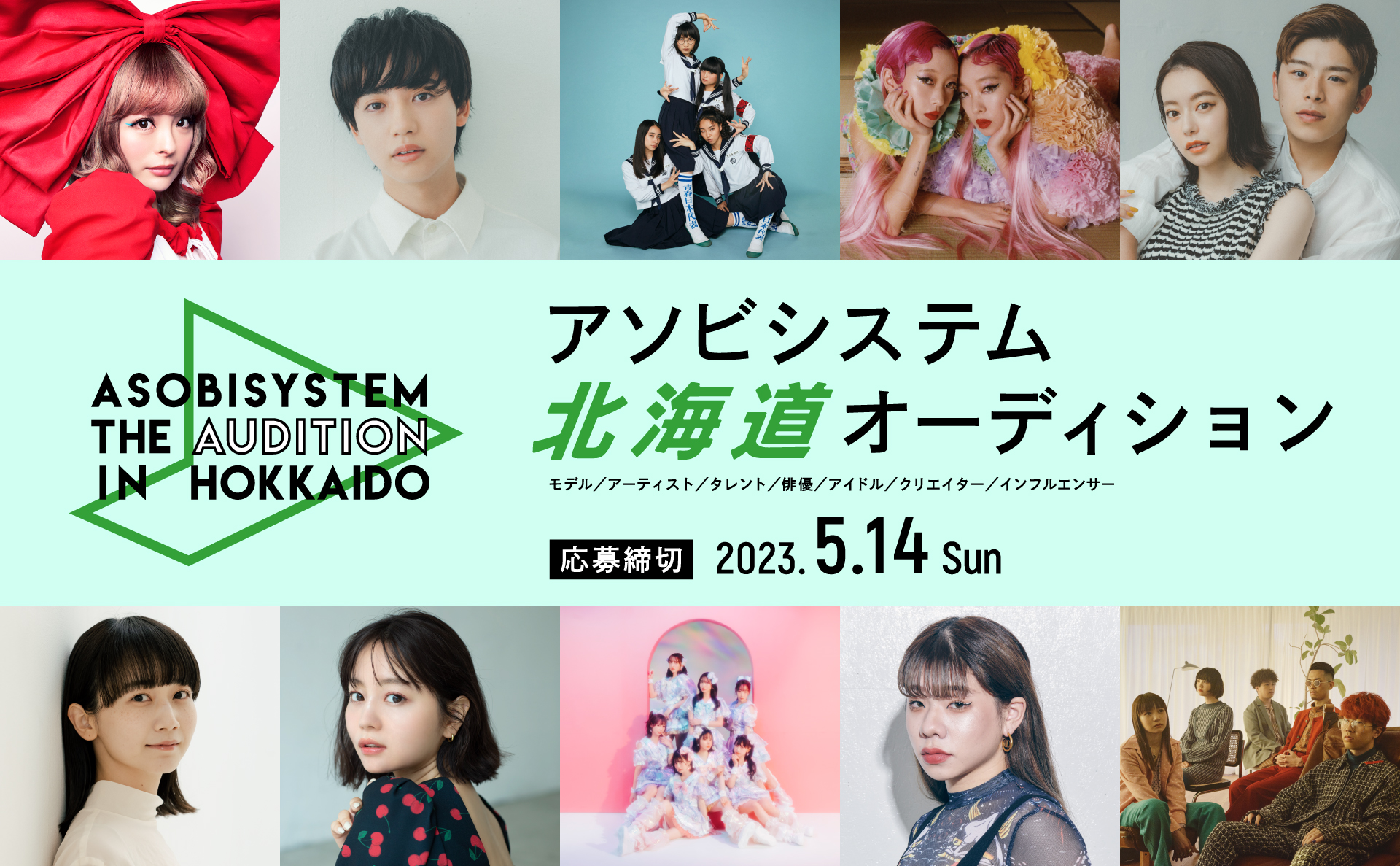 In collaboration with the Sapporo-based modeling agency donkmodel, ASOBISYSTEM is now holding auditions throughout Hokkaido to find new talent that will help create the next generation of culture.
In recent years, content has become more and more varied and diverse. Anyone, no matter where they live, can freely express themselves and build a fanbase in today's world. Our aim is to discover the next generation of cultural icons based in Hokkaido who will take Japan–and the world–by storm.
Applicants should reside in Hokkaido and be between the ages of nine and 22. Entries can be submitted via our special website and those who pass the initial document screening will be invited to an interview and audition to determine the Grand Prix winner. Interviews will be held in Sapporo, Asahikawa, Obihiro, Kushiro, Hakodate, and Tomakomai. (1)
In addition to receiving prize money, the Grand Prix winner will receive an exclusive contract with ASOBISYSTEM. Lesson and training fees will be covered, and winners will appear at ASOBISYSTEM-sponsored events and will appear in various magazines. They will also potentially be used as an ad model. (2)
In conjunction with the audition, a new Hokkaido branch office has been established with the aim of further revitalizing entertainment in Hokkaido by cooperating with local companies and organizations.
We're looking forward to fostering this new project to bring the power of entertainment to Hokkaido in a new way.
*1: In-person or online auditions will be held.
*2: Not all potential jobs can be guaranteed.
[Audition Overview]
Potential applicants include:
Artists (Groups permitted) / Models / Talents / Actors / Idols / Creators / Influencers
Application Requirements:
Between 9-22 years old *As of January 1, 2023
Any gender is welcome to apply
Must reside in Hokkaido
Must not be affiliated with a production company
How to Apply
Enter via the special website below
https://audition-asobisystem.com/hokkaido/
Application Period
March 2 – May 14, 2023
Prizes
Grand Prix / Runner-Up / Various special awards
Prize Money
Grand Prix winner: ¥100,000
Grand Prix nominees: ¥100,000
*If the application is submitted by the nominator, the nominator will also receive the prize
Bonus Prizes
An exclusive contract with ASOBISYSTEM
Lessons and training costs covered
The opportunity to perform at ASOBISYSTEM-sponsored events
Publication in various company magazines
The opportunity to appear as an ad model for various companies
*Not all potential jobs can be guaranteed.
[Audition Schedule] *The schedule is subject to change.
March 2 – Auditions open
May 14 – Auditions close
Early-Mid June – Lesson Review (Dance, walking, acting, self-promo, etc.)
Late June – Final Interview & Audition
Early July – Winners announced
[Notes]
・There is no screening fee for the audition application.
・Transportation and other expenses incurred during the judging process must be paid by the applicant.
・Minors must obtain the consent of a parent or guardian before entering.
・Be sure to enter a phone number or e-mail address where you can be reached.
・If we are unable to contact you, you will not be able to proceed to the next step of the selection process.
■About donkmodel
Model and talent agency based in Sapporo.
The company manages many models and talents active in a wide range of activities, including fashion shows and appearances on local programs in and around Sapporo, Hokkaido. The company also has affiliations and business partnerships with other entertainers active in various industries, such as hair and makeup artists, stylists, and MCs. They also coordinate a number of high-profile events.
・Address: Yamazaki Building #1 3F (6-2-12, Kita 6 Jonishi, Kita-ku, Sapporo)
・Representative: Mako Hashiya, President
・Business Activities: Talent and model management, TV, TV-CF, radio, video planning and production
・HP: https://donkmodel.com/