Kyary Pamyu Pamyu Concludes 10th Anniversary Tour with Spectacular Performance at Budokan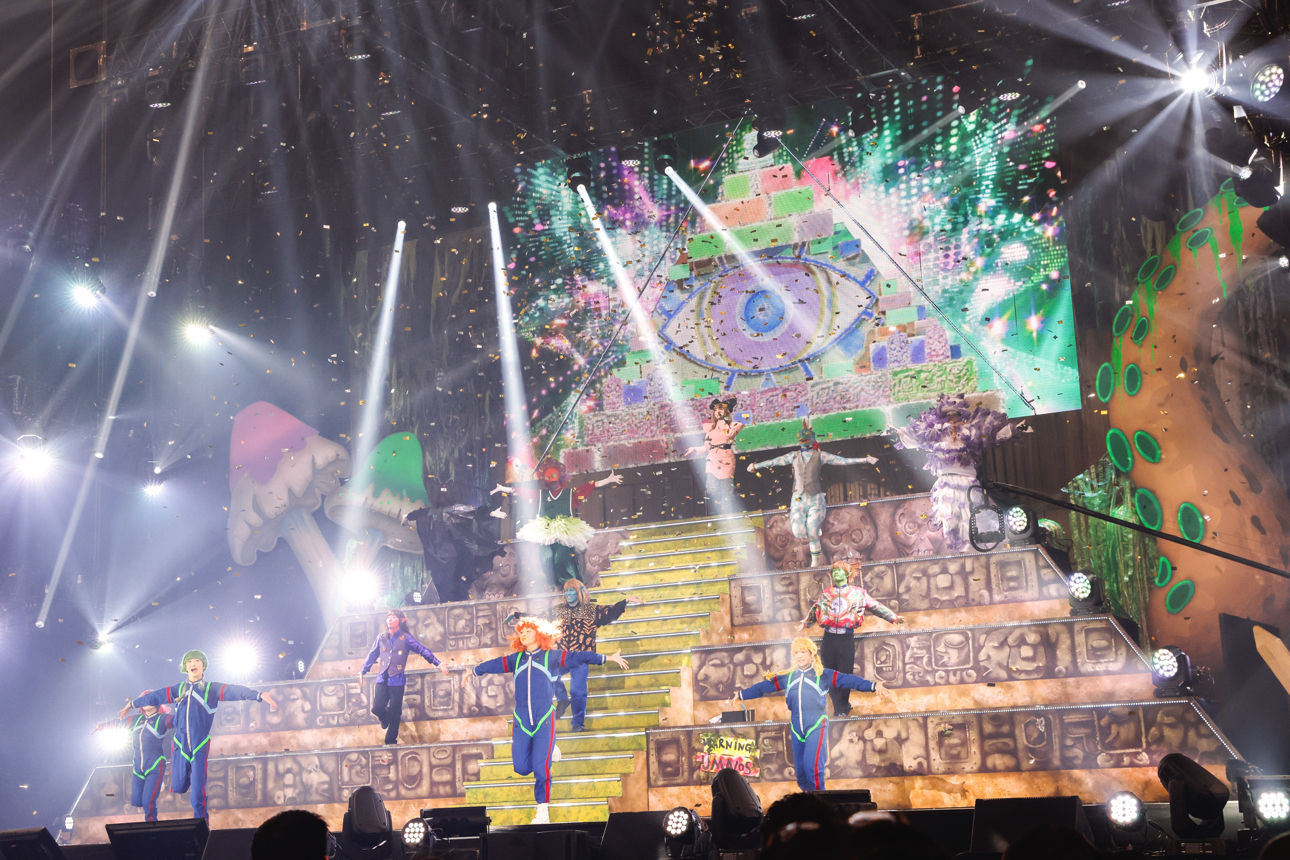 On October 19, Kyary Pamyu Pamyu celebrated her 10th anniversary as an artist in the best way possible–by holding her first Nippon Budokan concert in six years. The conclusion of her national tour, the show was mysteriously titled 'UMA 105.'
Kyary's special performance was also streamed to a worldwide audience via Zaiko Connect, with the video available to stream through January 2023. The stage itself reflected Kyary's unique style, with a UFO sporting disco ball legs on the ceiling, a brightly-lit pyramid with eyes in the center, and mushrooms and octopus legs dotting the sides of the stage.
While many fans in the audience were expecting the same set list used during the rest of the tour, they were shocked to find it completely redesigned. The singer performed a whopping 82 tracks, blending full versions, short versions, and medleys, giving fans a chance to relive the past decade of her career. All five of Kyary's full albums were represented: Pamyu Pamyu Revolution (2012), Nanda Collection (2013), Pika Pika Fantajin (2014), Japamyu (2018), and Candy Racer (2021), along with her first mini-album Moshi Moshi Harajuku (2011). The groundbreaking performance also included a cover of a CAPSULE track–the duo is also managed by ASOBISYSTEM, and due to her love of their music and her working relationship with Yasutaka Nakata, Kyary decided to sign to the same agency.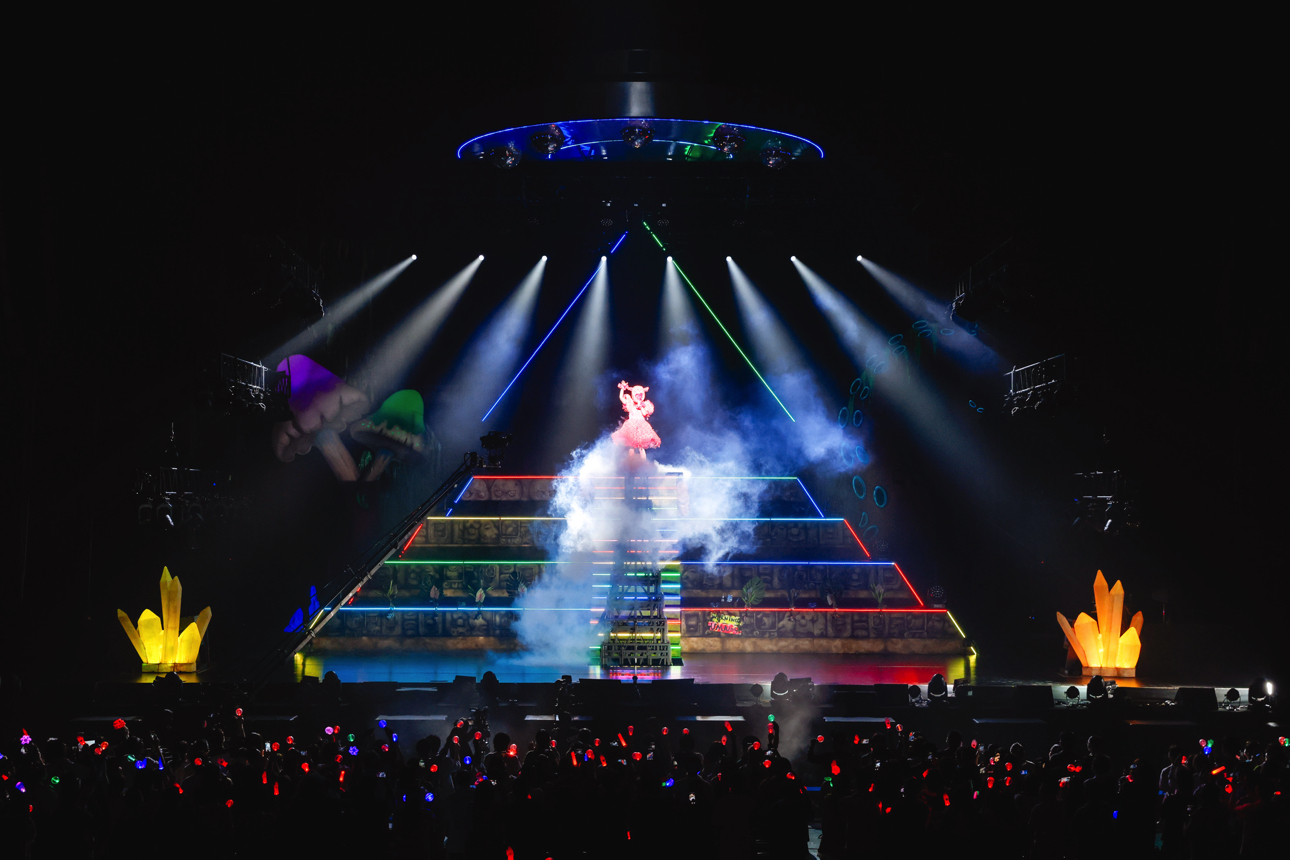 During the opening video, Kyary appeared in a stunning pink dress and mask to address everyone's question–what does 'UMA 105' mean? This refers to 105 unidentified organisms, or 105 songs, that have been released by the singer so far. Suddenly, it was also announced that filming was permitted, and the concert began with two of Kyary's most popular songs, Invader Invader and PONPONPON. Utilizing the incredible power of 12 additional speakers on the Budokan floor, the sound quality was stunning.
While the performance conjured memories of Kyary's earlier days as a performer, it also showed the evolution of the pop star over the past decade. Beloved by audiences abroad, it's no wonder that the singer was invited to perform at this year's Coachella, one of the world's largest music festivals. The dancers at Budokan had been active as KPP dancers since they were children, growing up with Kyary and her music. Understandably, this made the show even more emotional.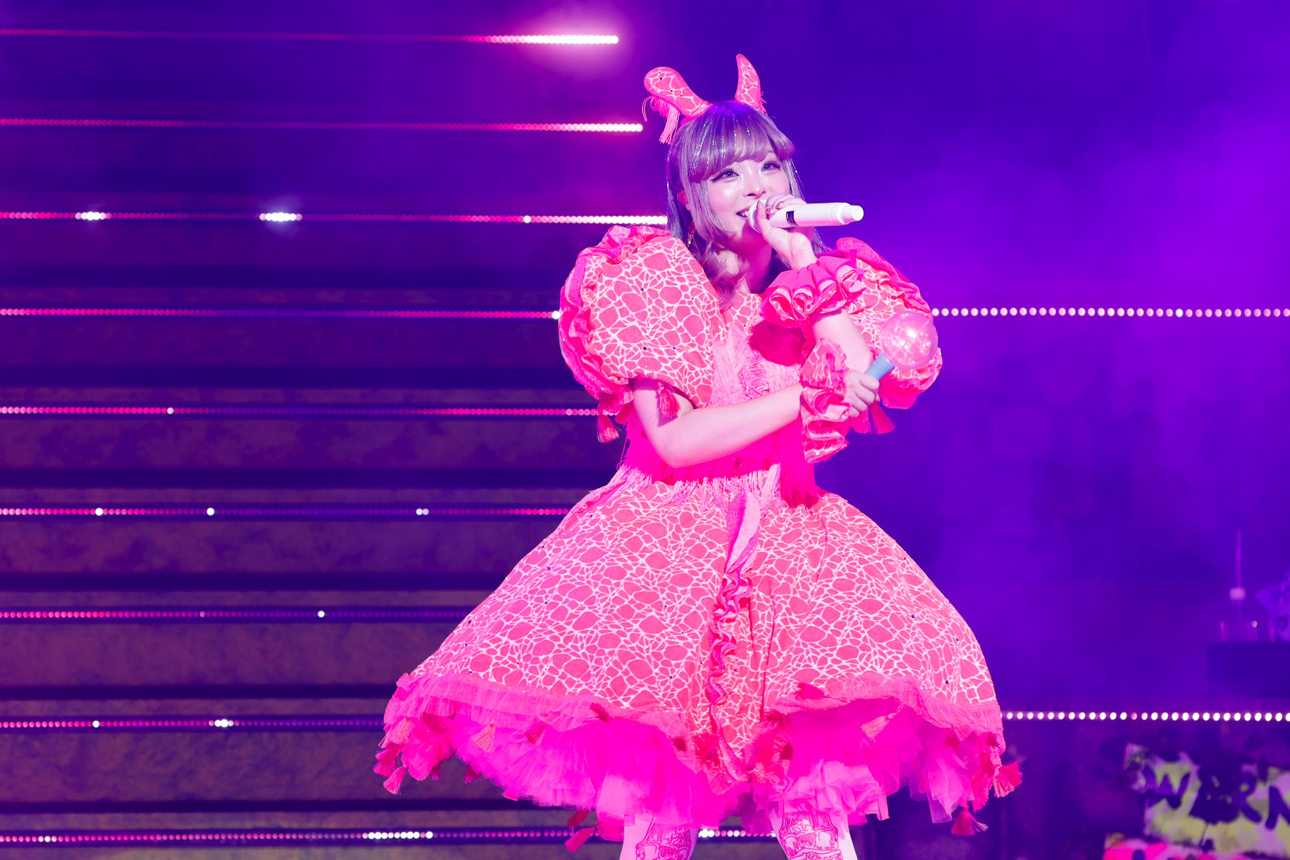 "Good evening and welcome to Nippon Budokan," Kyary yelled during the first MC portion. "Welcome to the finale of my tour! The title of the show, UMA, means 'unidentified organism,' and 105 refers to the number of songs I've released so far. How would you like me to perform most of those songs tonight?" A number of fans at the venue were dressed in Kyary costumes from past releases and concerts, and with glowsticks in hand, the audience became a sight to behold.
The music scene has undergone major changes over the past decade. Kyary Pamyu Pamyu's debut signaled a huge shakeup in the industry, with the artist becoming a leader in both Harajuku and Kawaii culture upon the release of her PONPONPON music video a decade ago. The video spread like wildfire around the world, trending on YouTube and catching the attention of major stars like Katy Perry, Lady Gaga, and Charli XCX, all of whom have been greatly influenced by Kyary's works.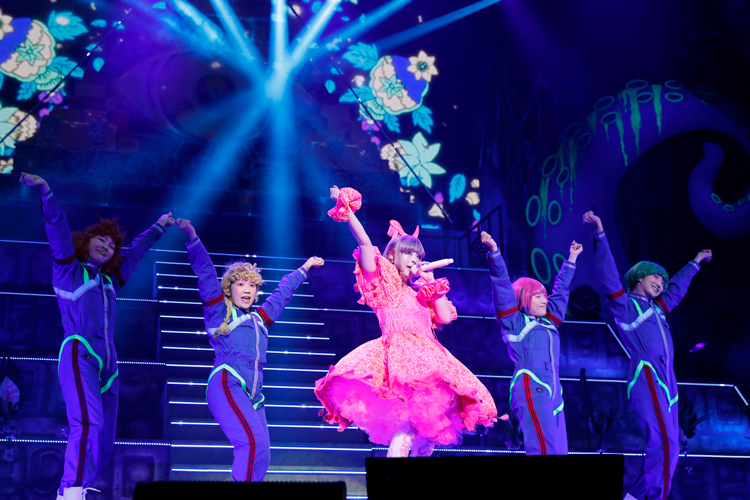 The nineteenth track to be performed was the popular Tsukematsukeru. Created with producer Yasutaka Nakata, the song is known by many as the heart of Kyary's identity, with her colorful outfit and over-the-top dance moves. Goosebumps appeared on my skin when the intro rang out, and the show continued with a medley from the Nanda Collection album. Kirakira Killer, Mondai Girl, and Crazy Party Night ~Pumpkin no Gyakushu~ rang out in perfect succession, and the audience was enthralled.
The dancers were dressed as four different types of monsters, each with unique characteristics. Kyary decided to use four dancers all from different dance backgrounds: Okapi, playing Flat Woods Monster, performed an amazingly technical ballet; SHO→TA, playing the Yeti, utilized his height to put on a powerful hip-hop show; Randy, playing the Mothman, dazzled the audience with his stylish voguing; and brown, playing the Chupacabra, showed off his House moves.
During the intermission, the dancers were given the stage to show off their unique styles and personalities while performing to Kyary's songs. Kanzen Keitai was paired with ballet, Kimi no Mikata was paired with hip-hop, Slow-mo was paired with voguing, and Jumping Up was paired with House in rapid succession.
To start the second half, the show moved into EDM mode with DE.BA.YA.SHI. 2021 and Candy Racer. The GASH Crew, comprised of three dancers chosen as winners in the Adobe DANCE VIDEO FES dance video contest in August, performed during Dodonpa, and fans couldn't help but move along.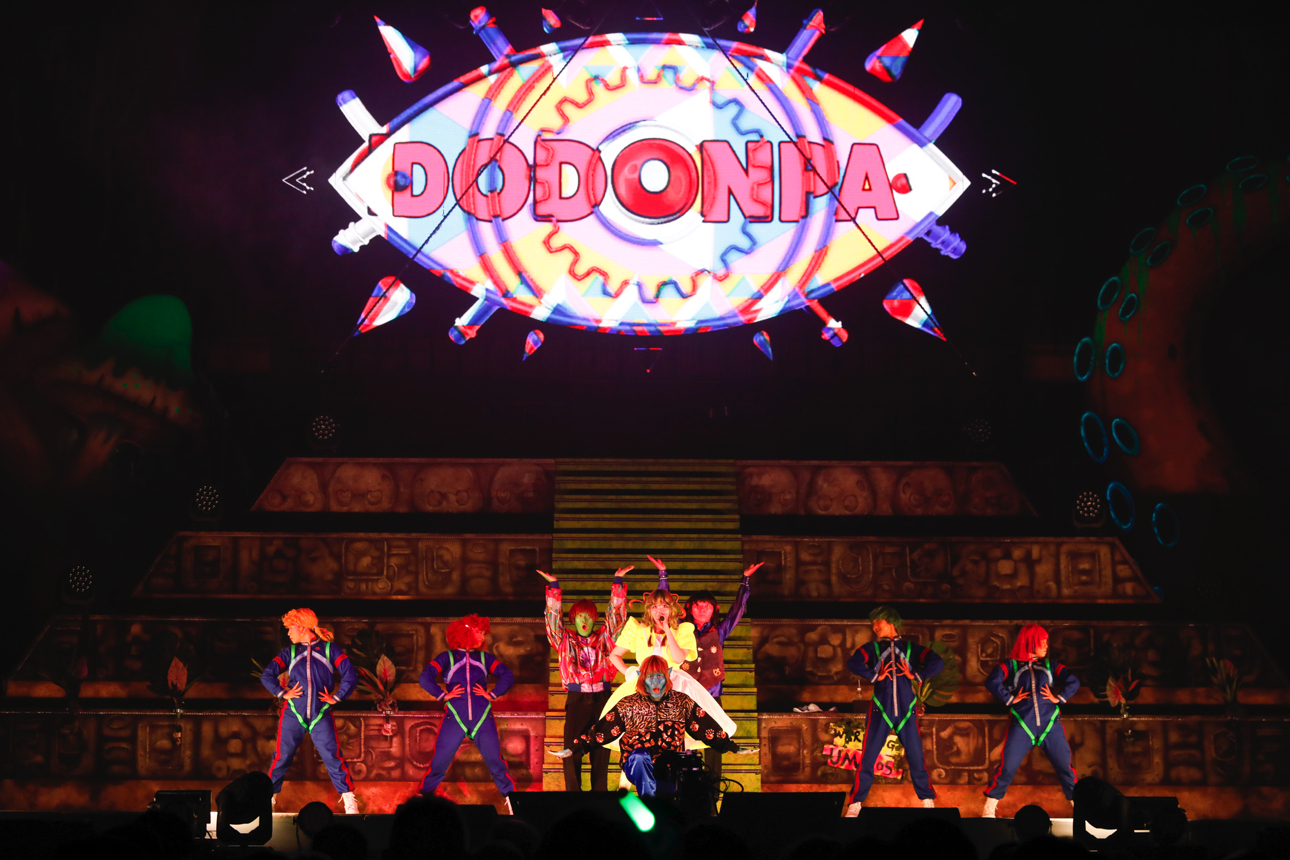 Fashion Monster, a song loved by audiences around the world, continued to lead the charge, and fans were impressed by the variety of tunes being played in such quick succession. The track was followed by the Pamyu Pamyu Revolution section, paying homage to the legendary album that made Kyary famous. This blended into a unique medley of CAPSULE cover songs.
If one were to look back on Kyary's success over the past decade, it was largely due to her gaining popularity in the West. Over the past year, PONPONPON and Cherry Bonbon have seen a resurgence in popularity due to TikTok users in Thailand, Korea, and other countries.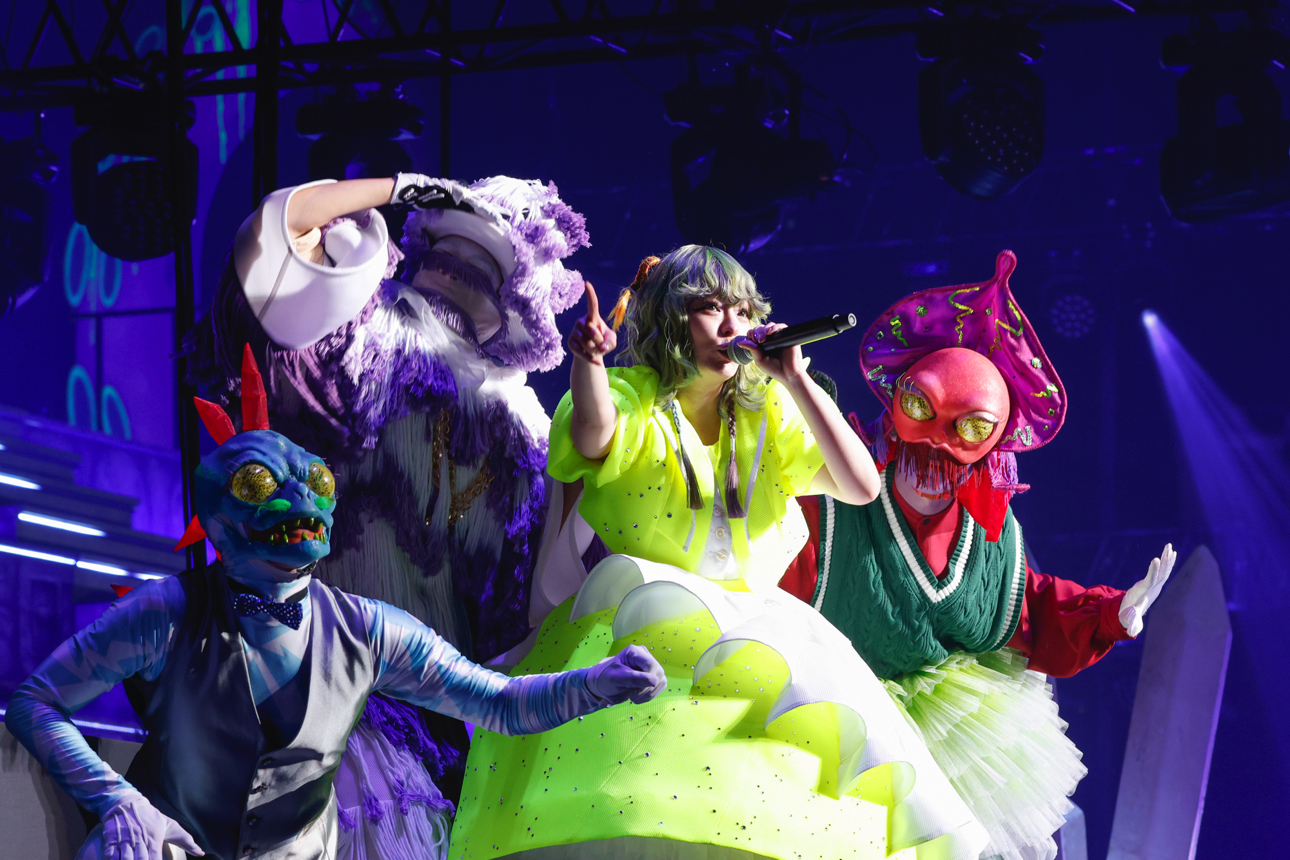 The venue exploded with excitement as the EDM track Harajuku Iyahoi began before flowing in the mellow pop track Kamaitachi. In colorful style, Kyary Pamyu Pamyu gave a full–and very danceable–performance of Gum Gum Girl, and another medley began, this time from Japamyu. Things felt like a 24-hour TV marathon, with the energy starting to reach a fever pitch and the audience in a complete frenzy. Even as Ninja Re Bang Bang and Sai & Co rang out, fans were already begging for an encore.
As the seemingly endless applause continued on and on, Kyary changed into a new outfit. Of course, her signature ribbon was in place on top of her head.
Her emotional MC segment began, with fans giving their undivided attention.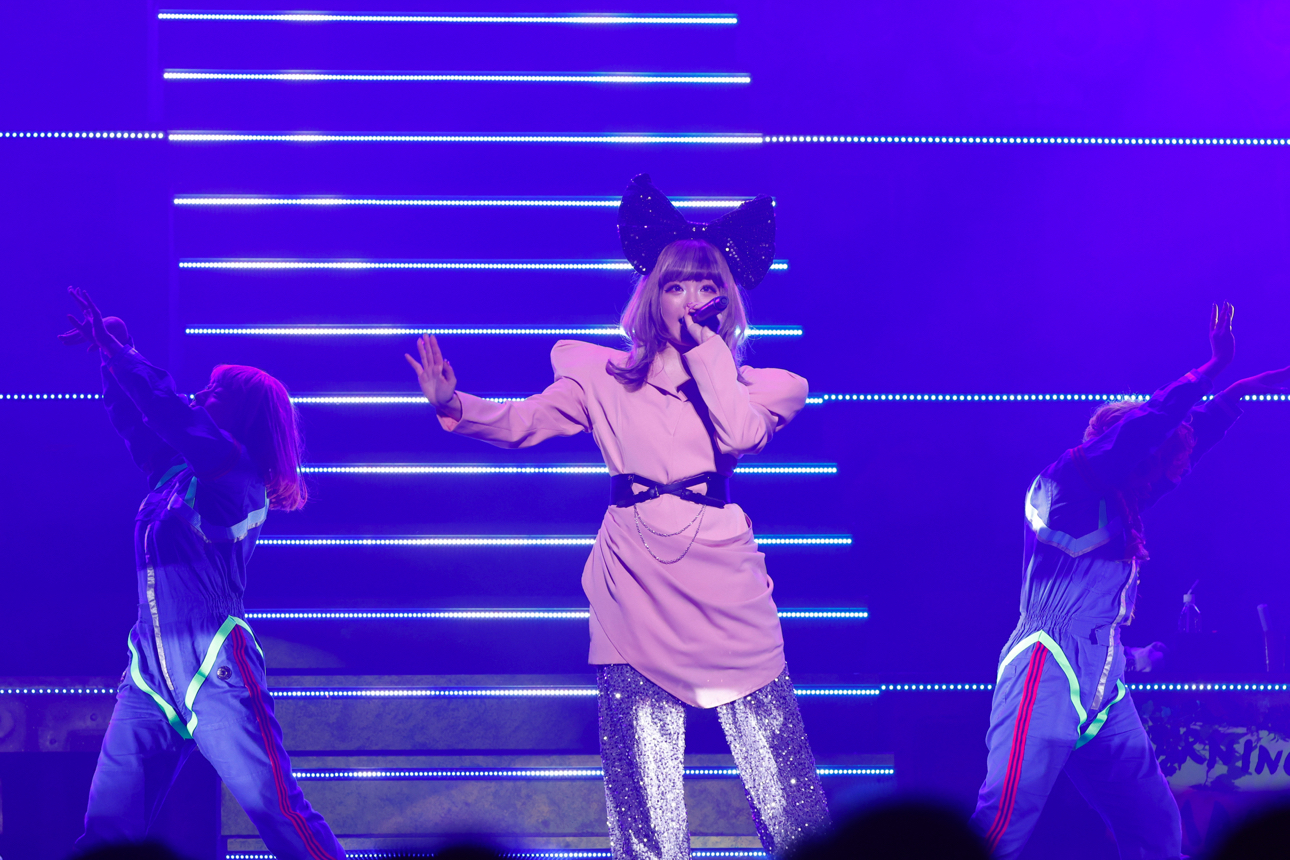 "My voice is worn out…I think I really might have sung too much," Kyary began with a strained laugh. "Thank you for coming out to the finale of my 10th-anniversary tour. I fell in love with fashion when I was in high school, and at the time, people would giggle at me when I walked down the street. They'd look at me like I was just some weirdo. I was just some odd girl with a big ribbon on her head. But for me, it felt normal. Soon after, I started my career as Kyary Pamyu Pamyu. That was a spur-of-the-moment name, and I really didn't think I'd still be using it a decade later. It's all thanks to the staff members and fans who have supported me. You're why I'm standing on stage at Nippon Budokan today."
Through tears, Kyary continued. "Thank you, from the bottom of my heart. I never thought I'd be able to perform at Budokan, let alone three times. I want to keep going, and I want to do my best for another 10 years. I want to become someone who can change nothing into something in this world. Thank you, I'm so happy," the artist said with a flourish.
"I wanted to push the envelope for my Budokan show. There are things that might seem impossible, but you might be surprised by what you can achieve if you just try. That's what I wanted to embody with my dancing today. I'm happy that I sang so much that I'm losing my voice! I don't think I'll be able to wake up tomorrow, and I'm pretty sure I won't be able to talk either, so I'm just going to take a break," Kyary said with another laugh. Striking a pose, it seemed like the unidentified creature was Kyary Pamyu Pamyu herself.
The show was a culmination of the artist's growth over the past decade. The last ten years have seen the world of entertainment change dramatically due to the internet, allowing fans from all over to experience music and culture from artists around the world.
Before performing her new electro-pop song Isshin Doutai, Kyary spoke about her accident this summer, in which she cut her leg while swimming in the ocean resulting in ten stitches. "I bought a swimsuit during the tour, and was happy to finally go to the beach, but I really got hurt. It's healing really well, but I want to love this scar because it's a part of me. Be sure to watch the music video–I made the scar sing!"
The final song was Chan Chaka Chan Chan, which also served as the final song for other stops on the tour. Rather than saying 'goodbye,' the lyrics were changed to 'see you soon,' bringing certain members of the audience to tears. After this performance, it's easy to see that Kyary is continuing to level up. This legendary performance showed off the best of the Queen of Harajuku and was a delight from start to finish.
In November, Kyary will appear at True Color Festival THE CONCERT 2022, the world's largest music festival focusing on diversity and inclusion. This will mark Kyary's first collaboration with Katy Perry, who helped make the artist popular worldwide. We wish Kyary success over the next decade.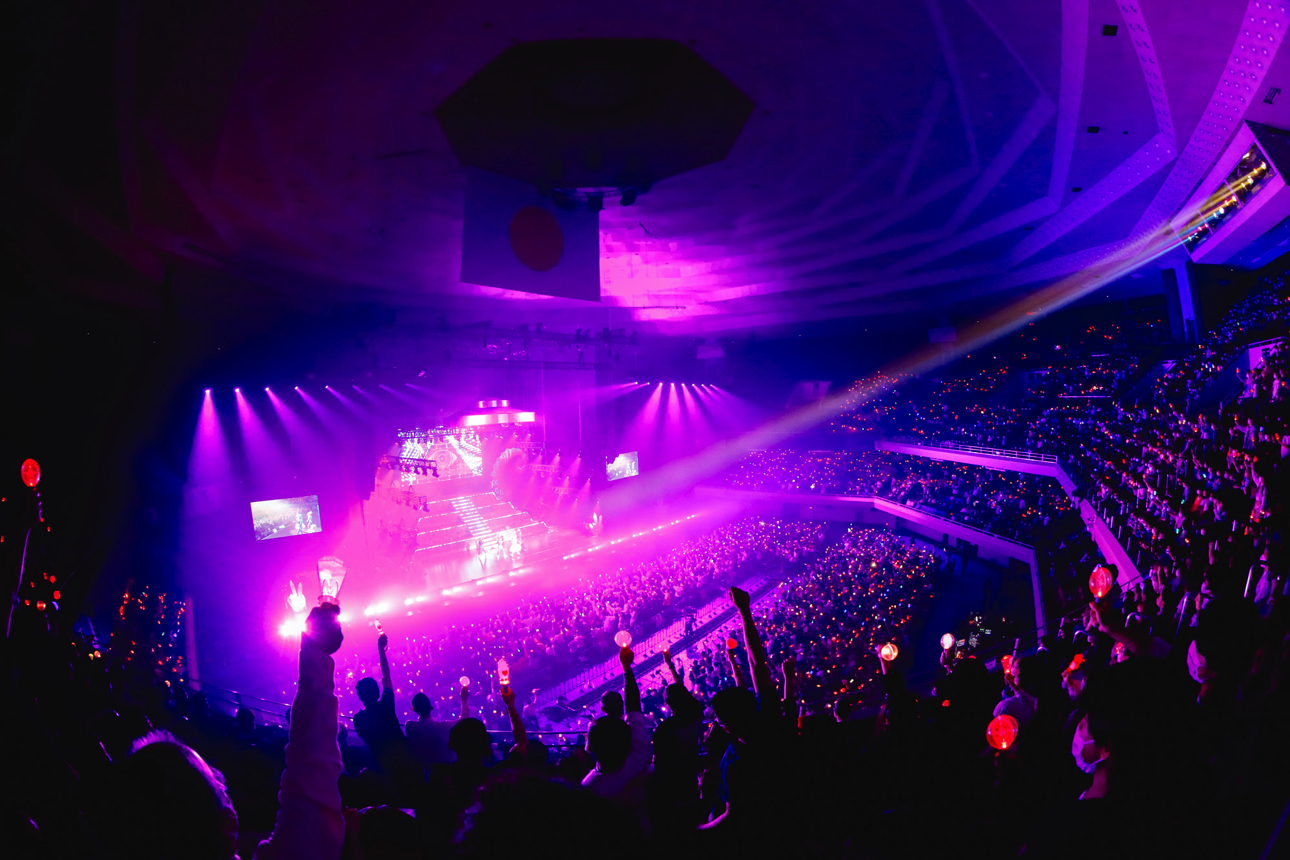 Text: Fukuryuu (Music Concierge)
Photo: Aki Ishii
[Archived Stream]
10th ANNIVERSARY JAPAN TOUR 2022 -TOUR FINAL- UMA 105
Available to stream worldwide on Zaiko Connect
Stream Available: October 19, 2022 – January 9, 2023
URL: https://connect.zaiko.io/e/kpp10
[Concert Information]
[True Colors Festival THE CONCERT 2022]
November 19, 2022 – Doors open 16:00 / Show starts 18:00
November 20, 2022 – Doors open 15:00 / Show starts 17:00
Venue: Tokyo Garden Theater
Contact:
True Colors Festival THE CONCERT 2022 Office
Phone: 050-5541-8600 (9:00~20:00 daily)
[Kyary Pamyu Pamyu Special Live 2022 ~Back to Coachella~]
Date: December 20, 2022
Venue: Nanba Hatch (Osaka)
Date: December 21 and 22, 2022
Venue: EX THEATER ROPPONGI (Tokyo)