ASOBISYSTEM to Act as Event Partner for Virtual Shibuya au 5G Halloween Festival 2022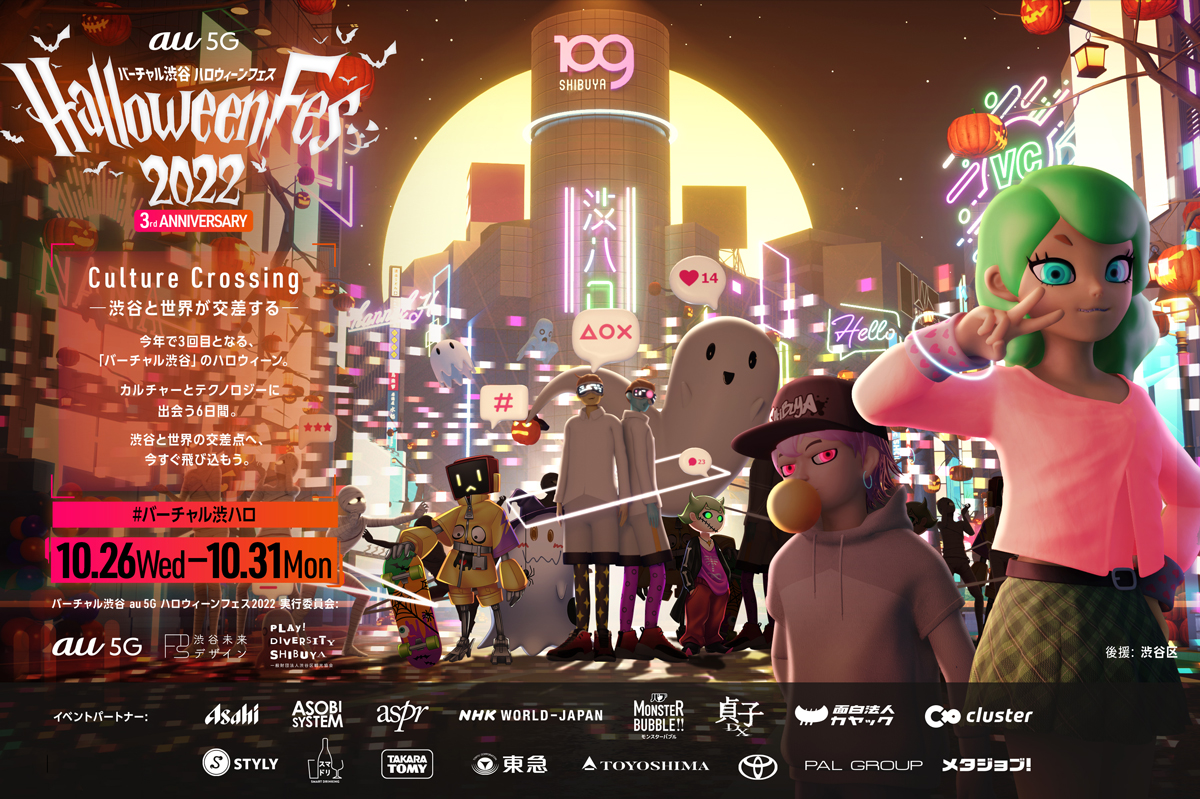 For six days starting October 26, the Virtual Shibuya au 5G Halloween Festival 2022 will celebrate the spookiest season. ASOBISYSTEM will act as an event partner for this year's event!
The theme of the third-annual event is 'Culture Crossing – Shibuya and the world intersect.' The festival won't only be in the virtual world–visitors to Shibuya will also be able to participate in some unique experimental events. The festival will share Japanese pop culture and technology with the world via the virtual world.
To date, a total of 48 artists, VTubers, and anime characters have taken part in the festival, and nearly 1 million people from around the world attended the 2020 and 2021 Halloween festivals. This year, more idols, anime and manga characters, and VTubers are scheduled to appear.
Not only a fun Halloween event, the festival will also support the local community. Children will be able to take part in events organized by the Shibuya Station East Exit Shopping Association and Psychic VR lab. These spooky events fuse the real and virtual worlds through the use of AR. Similar to the 2021 event, a portion of the proceeds from the Virtual Halloween event will be donated to the Children's Table Project sponsored by the Shibuya City Council of Social Welfare.
As real-life Halloween events were either postponed or canceled due to the pandemic, this event in Virtual Shibuya brought audiences safe and engaging fun when it was needed most. This new style of entertainment continues to grow and expand, and participating will have a positive impact on the actual world.
Virtual Shibuya au 5G Halloween Festival 2022
Dates: October 26 – October 31, 2022
Venue: Virtual Shibuya, Certified by the City of Shibuya
Sponsored by the Virtual Shibuya Halloween Committee
Produced by KDDI, Future Design Shibuya, Shibuya City Tourism Association
Supported by Shibuya City
Official Site:
https://vcity.au5g.jp/shibuya/halloween2022