Yutaro to Star in NTV Drama Series 'Bakayarou no Kiss'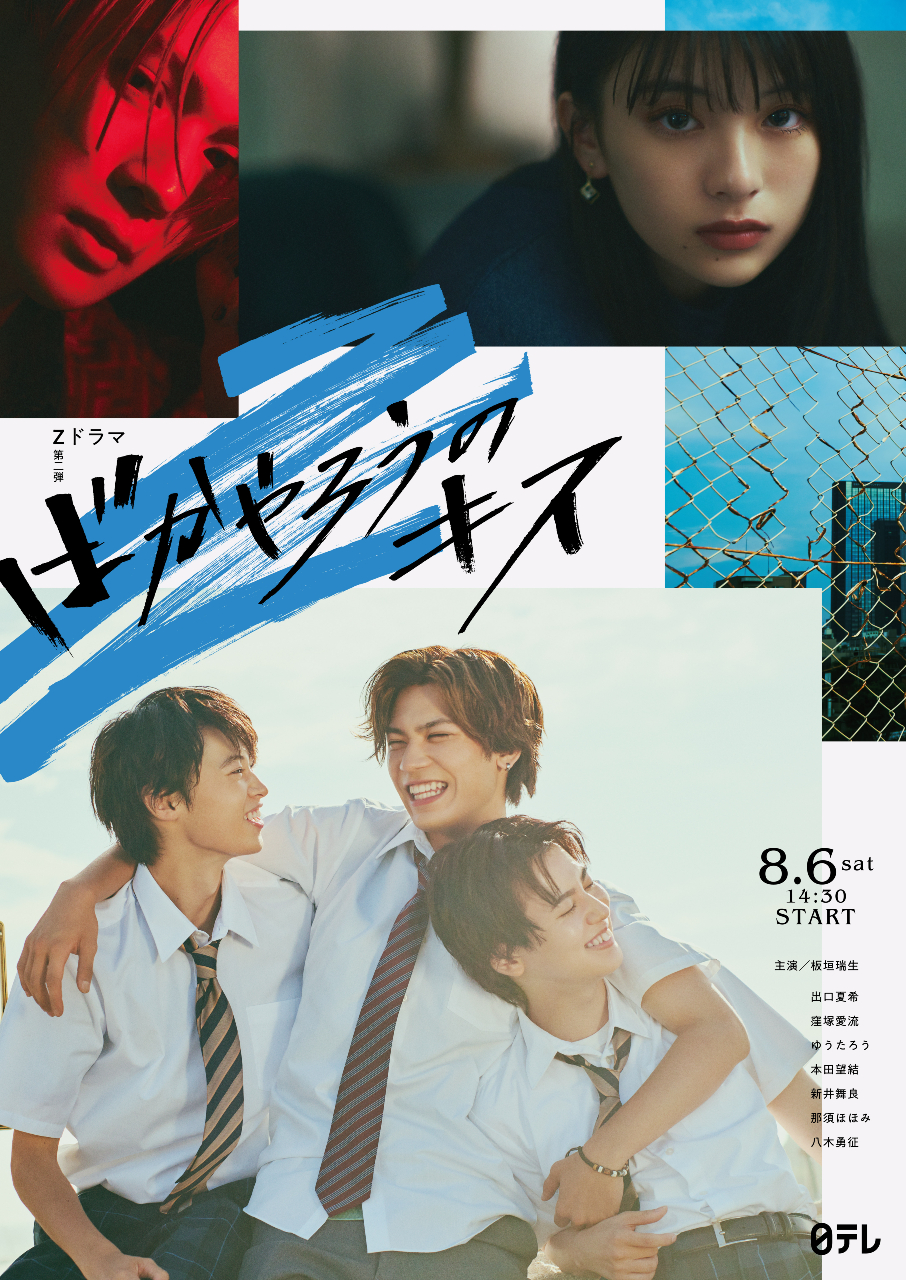 NTV's Gen-Z project 'Z-Drama' was started to provide content for younger generations. The project's second drama series,Bakayarou no Kiss, will begin in August and will feature Yutaro in the role of Keita Osada.
The story begins when three high school boys celebrating their last summer vacation hear that their old friend Ririna, who had transferred to another school in junior high, would be appearing on a love reality show.
The first episode will air at 14:30 on August 6, so be sure to tune in.

<Comment from Yutaro (Keita Osada)>
–What was your first thought when you heard you'd be starring in the show?
"I was incredibly happy because it was my first time being cast in an NTV drama. I'm looking forward to finding out what kind of people are watching the show. I also can't wait to see people's reactions!"
–What were your initial impressions of the script?
"The text alone seemed to sparkle on the page. I was excited to return to my youth, which is a period of my life that I've almost forgotten."
–The series includes plenty of actors who are around your age. What did you look the most forward to?
"I was happy to work with Mizuki Itagaki again. We've worked together a few times and have become really close friends. I was secretly hoping to also get to know all of the other actors and become friends too."
–Tell us your most vivid memory from your summer vacation days when you were a student.
"When I was a kid, I got into trouble sometimes, and I have a really fond memory of my dad scolding me for running head-first into the massive public swimming pool near where I grew up."
–What would you like to share with the high school students and young people watching this show?
"Now that I'm in my 20s, I realize that there are so many things that you can only do when you're a student. I hope that you'll try a bunch of different things during this important point in your life and experience plenty of successes and failures!"
Added on July 8, 2022
Key visual released.
While Bakayarou no Kiss and the third Z-Drama Yarinaoshitai First Kiss can be enjoyed separately, watching them together will allow you to discover more about the character's backstories. Please enjoy the way they play into each other!
■Z-Drama Bakayarou no Kiss
First Episode Date: August 6, 2022 (Kanto Local)
Terrestrial Broadcast: Saturdays from 14:30-15:00 on NTV
Where to Stream: TVer, Hulu, YouTube (Only Episode 1), NTV TADA, GYAO!
*Episode 1 will begin streaming on August 6 at 15:00.
Starring: Mizuki Itagaki, Natsuki Deguchi, Airu Kobozuka, Yutaro
Producer: Tsutomu Suzuki