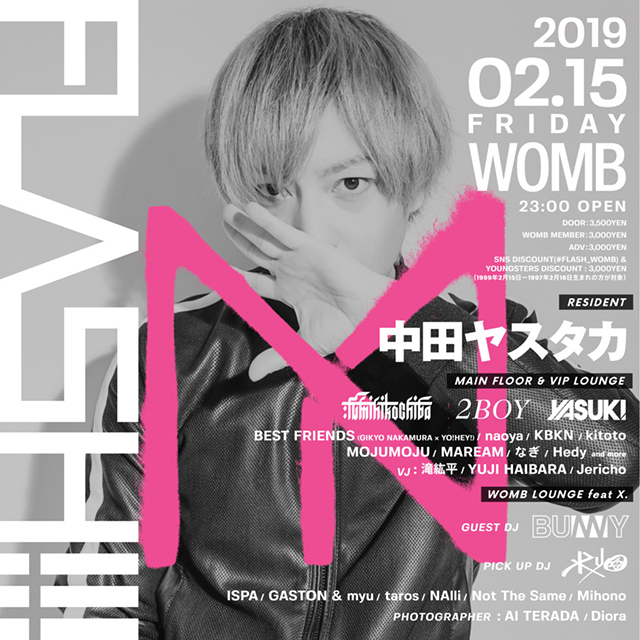 FLASH!!! feat X.
2019年2月15日(金)
OPEN / START 23:00
DOOR:3,500円
WOMB MEMBER:3,000円
ADV:3,000円
SNS DISCOUNT(#FLASH_WOMB):3,000円
YOUNGSTERS DISCOUNT(1999年2月15日〜1997年2月16日生まれの方が対象): 3,000円
前売りプレイガイド
iFLYER:https://iflyer.tv/event/310787/
<RESIDENT DJ>
中田ヤスタカ
<MAIN FLOOR&VIP LOUNGE>
Fumihiko Chiba
2BOY
YASUKI
BEST FRIENDS (GIKYO NAKAMURA × YO!HEY!)
naoya
KBKN
kitoto
MOJUMOJU
MAREAM
なぎ
Hedy
and more
VJ:
滝紘平 / YUJI HAIBARA / Jericho
<WOMB LOUNGE feat X.>
GUEST DJ:
BUNNY
PICK UP DJ:
Ryo
LINE UP:
ISPA
GASTON & myu
taros
NAlli
Not The Same
Mihono
PHOTOGRAPHER:
Diora / AI TERADA
<会場>
渋谷 WOMB
http://www.womb.co.jp
YOU MUST BE OVER 20:
20歳未満の方のご入場は一切お断りさせて頂きます。 入場の際全ての方にIDチェックをさせて頂きますので、顔写真付きの身分証明書(生年月日記載)をお持ち下さい(コピー不可)。 ご本人様と確認出来ない場合にはご入場をお断りする場合がございます。
You must be 20 years or older to enter and a vaild photo ID containing your birthdate is required at the door. Copies are not acceptable. We reserve the right to refuse admission to anyone.
音楽家・プロデューサーである中田ヤスタカのウィークエンドレギュラーパーティーとして長きに渡りその名を轟かしている『FLASH!!!』。WOMBのレギュラーパーティとして、多くのオーディエンスと共にフロアを揺らしている。中田ヤスタカ、そして多様なダンスミュージックを響かせる個性豊かなラインアップでお送りするダンスミュージックの多様性を全身で感じてもらいたい。毎回キャッチーなWOMB LOUNGEのコンテンツも注目のひとつ。平成最後の今回はFLASH!!!DJのISPAが仕掛ける『X.(クロスドット)』をフィーチャー。WOMBの平日のレギュラーパーティであった『X.』がパワーアップして週末に帰還する。その進化をとくとご覧あれ。
Yasutaka Nakata's resident party FLASH!!! is now set to be regular event at WOMB!FLASH!!! is well known as the one and only long-running weekend regular party where you can hear musician and producer Yasutaka Nakata play.The party will bring together a lineup of artists that form the next generation of the electronic music scene, together with the helmsman himself, Yasutaka Nakata.FLASH !!! It would be no exaggeration to describe this as a party representative of Tokyo. Not something to be missed as it continues to lead us into the future.