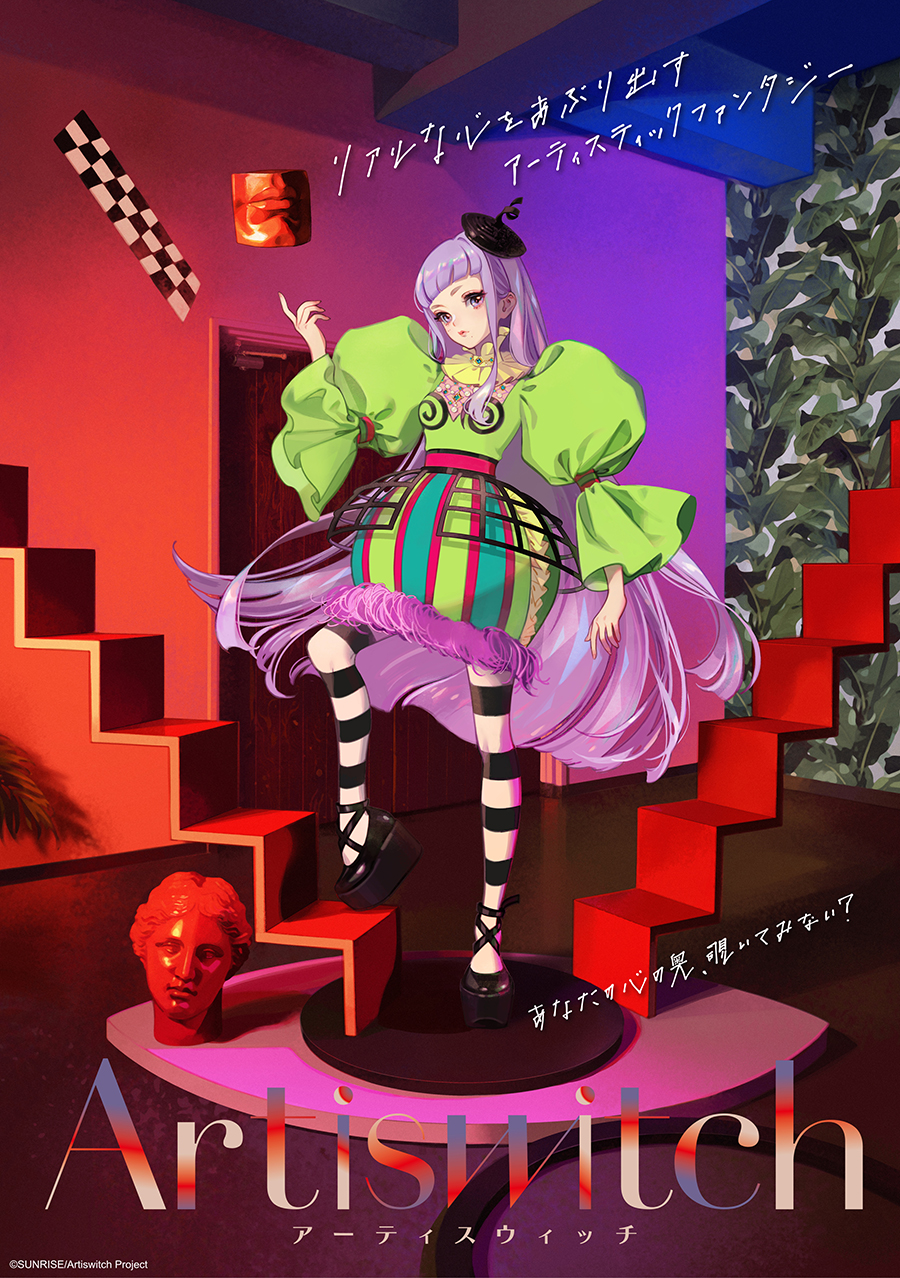 Artiswitch is a new creative project pulling inspiration from the fashion, art, and music trends found in Harajuku. In order to develop an original IP with the help of numerous talents and artists, the animation studio SUNRISE teamed up with ASOBISYSTEM starting in April 2021.
■Part 1: Original Anime Artiswitch (6 episodes)
The first six episodes are available to watch on the official Artiswitch YouTube channel. The series is set in Ura-Ura Harajuku, where a certain witch named Nina runs a shop, fulfilling her guests' every wish and desire by forcing them to look deep inside their hearts at their true feelings. Because of the contributions of so many talented creators, the short series has been praised both in Japan and abroad, exceeding 2.35 million views on YouTube as of June 2022. 
■Part 2: Artiswitch Music Series
A series of incredible music videos followed, with high-profile artists and illustrators collaborating to express the world of Artiswitch with tracks inspired by the story and characters.  
■A Project Made in Collaboration with Affiliated Creators
ASOBISYSTEM's own yonkey produced the theme song for the series, while Utano Aoi and Yutaro provide character voices. Other participants in the project include musical artists Moe Shop and ASA Wu and illustrators Nah, NANCYSNAKE, and MIOCHIN. 
Merchandise and apparel based on the series is now available, and the company plans to further expand the IP in the future.
Artiswitch
[Cast]
Utano Aoi, Honoka Kuroki, Riko, Yutaro, Rinne Yoshida, Yume Miyamoto
[Artists]
Giga, Hakubi, Hakushi Hasegawa, Moe Shop, Yukichi Kasaku/men, yonkey
[Staff]
Director: Kazuma Ikeda
Series Composition/Screenplay: Erika Yoshida
Character Designer: Hiromi Matsuo
Stylist/Costume Designer: Miki Aizawa
Art Director: Motoko Marui
Sound Director: Akiko Fujita
Music: Rasmus Faber
Animation Production: SUNRISE
Planning & Coordination: ASOBISYSTEM
[Music]
Theme Song: Tobu, Saihate – yonkey feat. Kana Adachi
Episode 1 Insert Song: G4L – Giga
Episode 2 Insert Song: color – Hakubi
Episode 3 Insert Song: Watashi o Mite – Hakushi Hasegawa
Episode 4 Insert Song: GHOST FOOD (feat. TORIENA) – Moe Shop
Episode 5 Insert Song: E de – Yukichi Kasaku/men
<Introduction>
Reveal your True Heart! An Artistic Fantasy
A rumor is spreading among young people in Harajuku: somewhere in the back streets of Ura-Ura Harajuku, a witch and her mysterious shop serve those whose wishes have gone unheard, giving them an opportunity to unlock their hearts' greatest desires. 
The witch Nina strives to make her customer's wishes come true along with her pet chameleon and pig. By inviting them into her mysterious shop, she takes a look at their true feelings deep inside. 
However, not all wishes are meant to come true—and not all of them lead to a happy ending.
Nina herself comes into her own as she experiences joy, pain, and conflict. 
©SUNRISE/Artiswitch Project
CONTACT
We team up with domestic and international creators as well as partner companies to produce and create imaginative works from wide range of genres. Please contact us for work requests or consultations.