Haruhi Ito to Appear in papercraft Theater Troupe's 8th Performance 'Lemon'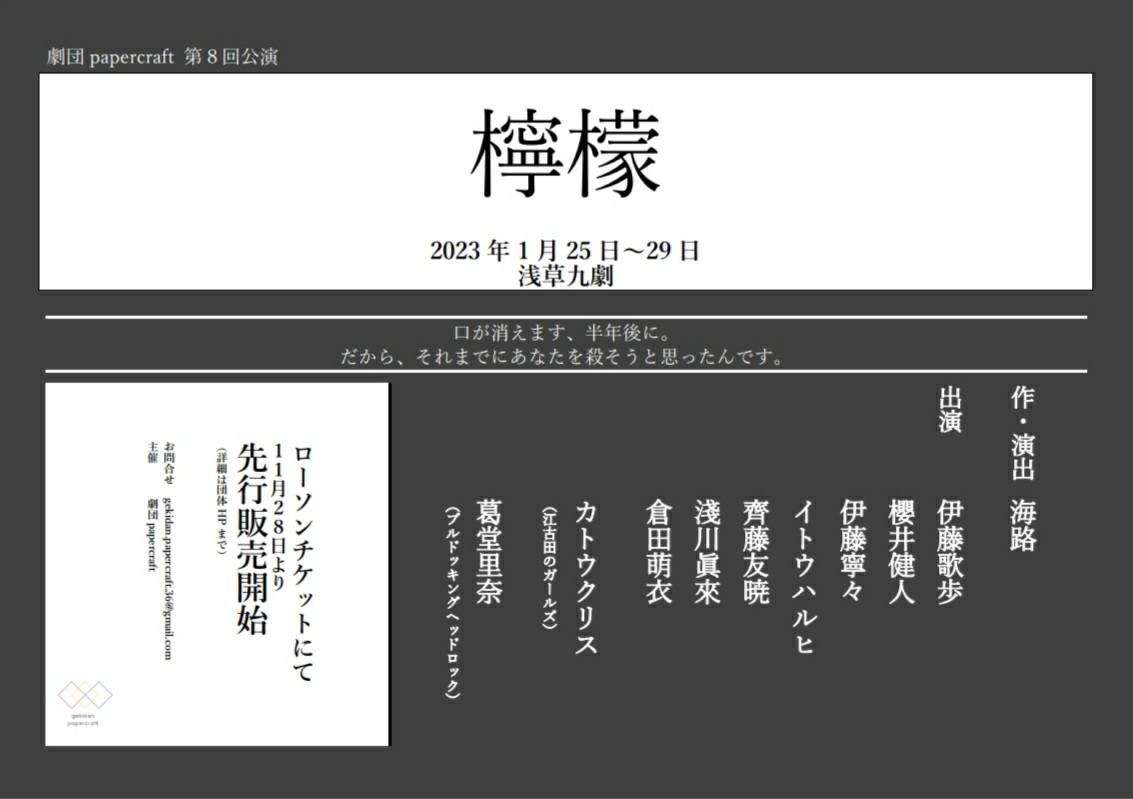 Haruhi Ito will appear in papercraft Theater Troupe's 'Lemon,' scheduled to be performed in January 2023.
The play tells the story of a woman living a normal life who suddenly finds out that her mouth will disappear in six months. The knowledge of something so terrifying begins to throw her life into a tailspin.
Tickets will be available for pre-sale starting November 28.
<Comment from Writer and Director Miro>
"While it's completely impossible for a human being to simply lose their mouth, I still wanted to base a story on the idea. I can't imagine what I'd do if I were told that my mouth would suddenly disappear, but I hope that you'll come to watch what may happen in such a hopeless situation. I look forward to seeing you at the theater!"
Lemon (papercraft's 8th Play)
Dates: January 25 – January 29, 2023
Venue: Asakusa Kugeki
Price: ¥5,500 (Pre-sale) / ¥6,000 (Day of) / ¥3,500 (Under 25)
Ticket Sales:
Pre-sale: November 28, 2022
General Sales: December 14 at 10:00
Starring:
Kaho Ito, Kento Sakurai, Nene Ito, Haruhi Ito, Tomoaki Saito, Mark Asakawa, Moe Kurata / Chris Kato (Ekoda no Girls) / Rina Kado (Bulldocking Headlock)
Writer/Director: Miro
Performed by papercraft Theater Troupe
 [Summary]
I've lived a peaceful life–with a mouth, of course.
It's been a happy life with a mouth. I have a lover with a mouth, friends with mouths, and a family with mouths.
I took that for granted. I never knew that even if things changed, happy days with my mouth would continue.
I never thought that those normal days with my mouth were so precious. I know that now.
Official Site
https://gekidan-papercraft.amebaownd.com/